For the twelve-month period ending in March 2017, overall sponsored transactions have increased by nearly 12 percent YOY; yet, for the same period, mezzanine transactions have declined by 10 percent. Although, in the first quarter of 2017, mezzanine debt investments did comprise of ~13% of new platform private equity investments.
Why all this fuss over Mezzanine activity? Well, earlier this week, SPS released its Mezzanine Market Perspective. It's our quarterly review on market trends and mezzanine transactions. It provides detailed data pertaining to transaction activity on a quarter-by-quarter basis dating back to Q1 2012.
Let's revel in all that deal data glory by digging deeper into those debt and financing transactions for Q1 2017. In the first quarter, 104 transactions were completed and 69.2% involved a sponsor, which is consistent with previous quarters.
My favorite topic: sectors! Industrials was the most active sector for deals that traded with a mezzanine component. This was followed by Services, IT, Healthcare, and Transportation.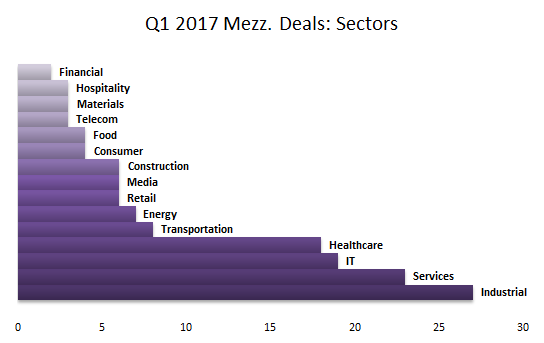 Studying a map of North America, the Pacific West region was the most active for mezzanine deals. Though, for all deals that traded in the first quarter (mezzanine financing, or not), the Great Lakes region was the most active, followed by the Mid-Atlantic and Pacific West, which was a distant third.
More than 77 mezzanine lenders participated in these transactions, with 36% partaking in two or more deals, and seven firms financing four or more unique transactions. With over 535 unique sponsors and 367 intermediaries active in this quarter, successfully navigating the most relevant firms and relationships is key to productively deploying your capital. Given the current level of competition and other market forces impacting pricing, a focused and informed deal sourcing strategy will ensure that the pace of deals stays on track, while simultaneously managing your investment discipline and meeting investors' hurdle rate.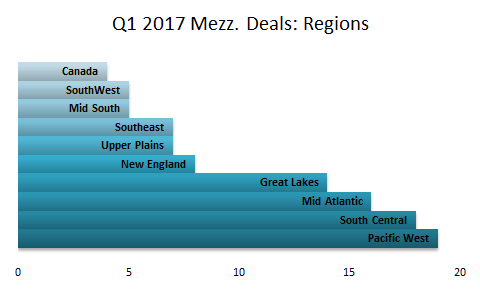 This is just a quick view from the mezzanine, of those deals that traded in the first quarter. For more details, including highlights from notable transactions, take a gander at the Perspective. And, if you would like to receive the Perspective in your inbox, drop a line!