We are halfway through the third quarter of 2018! – can you believe it? And, the Source has yet to examine deal activity for the first half of the year.
Transactions trading in Q2
More than 1,800 transactions closed in the three-month period ending June 30, 2018. Of these transactions, 78% were private company sales and 12% were private equity exits. Digging deeper, of those transactions that included a private equity seller, 57% sold to a peer sponsor investor. Not entirely surprising, more than one-half of all closed deals in this period were buyouts.
New York was by far the most active city during the second quarter with 4% of all deals closing in the Big Apple. This volume was followed closely by San Francisco (42), Houston (31) and Austin (31), and Toronto (30) and Chicago (30). However, when segmenting North America into regions, the Pacific West is the most active with 16% of deals closing on the west coast.
Braking down the industries
For this three-month period, IT: Software & services is the most active sector with 21% of deals trading in this sector. This is followed closely by, Industrial: Equipment & products (12%), Services: Misc., asset light (6.2%), and Financial: Services (5.9%).
Examining the IT: Software & services subsector, 90% of deals traded in the sub-$250 MM EV range. The top cities for these targets are New York (25), San Francisco (24), and Atlanta (14). Finally, nearly 60% of the intermediated transactions in this sector closed to an equity investor.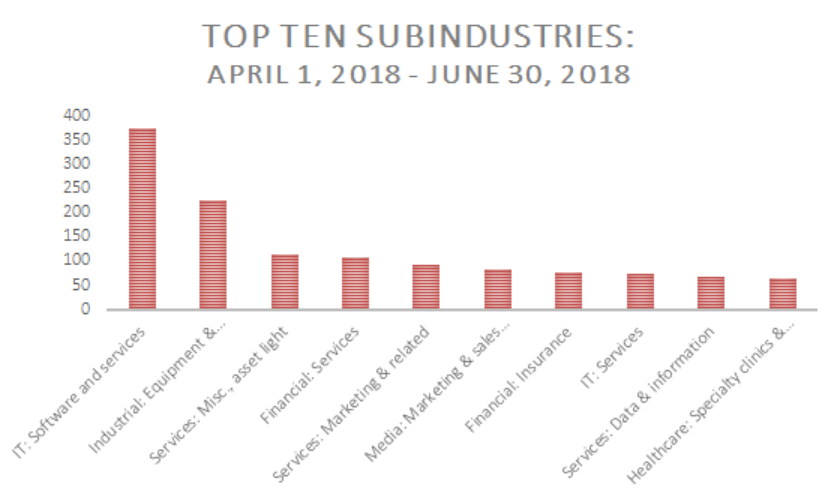 Quick recap of the first-half of 2018
In the first half of 2018, more than 3,840 transactions traded, including 53% of deals closing in the first quarter. This is notable, as the second quarter is usually more robust in deal-flow and closed-deal activity. The first of 2018 saw a slight decline of approximately 6% from the first half of 2017. The most active industries included Services, IT, and the Financial sectors. Finally, not earth shattering, the highly active regions during this time are the Mid-Atlantic, the Pacific West, and the Great Lakes.
Given all the discussions and excitement surrounding the potential private equity and M&A boom, there is good reason to delve deeper into H1 in more detail in a later post. Stay tuned!
Last week's deals today
August 6 – August 10, 2018
~108 deals traded!
Deal of the week
Equity investor, Hellman & Friedman completed its acquisition SimpliSafe Inc. for approximately $1 billion. Based in Cambridge, Massachusetts, SimpliSafe manufactures security alarm products. Both Qatalyst Partners and Raymond James acted as sell-side intermediaries and Goodwin Procter provided sell-side legal services.
Most active subsectors
IT: Software & services
Industrial: Equipment & products
Financial: Insurance
IT: Services
Media: Marketing & sales services
Most active cities
New York
Ottawa
San Francisco