Fundraising is up, but mezzanine deal activity is trending down
Private Equity fundraising is at an all-time high, with dry powder and capital overhang surpassing its peak levels. In 2017, according to Preqin, a ten-year high of $282bn was reached in terms of capital raised for buyout fund managers. The second most active year for buyout fundraising was 2008 with $230bn (see Preqin post and chart detailing the past ten years). While there is tremendous growth in fundraising, SPS is noticing (and has been reporting) another trend: mezzanine deal activity has slowed significantly in the past year.

2017 Mezzanine activity down 37% from 2015
Over the 36-month period of January 2015 through December 2017, SPS has reported in its Mezzanine Market Perspective a decline in deal volume for Mezzanine transactions. Of the deals that traded in this time, volume has fallen by 37% from 597 deals in 2015 to 378 transactions in 2017.
Of the more than 1,500 combined mezzanine transactions that traded over this three-year period, 18% of deals traded in the Industrial: Equipment & products subindustry, followed by 10% in IT: Software & services and 5% in the Services: Misc., asset light.
The vast majority of mezzanine deals have traded in the sub $250MM EV range. Breaking out the subindustries by deal size, and more than 93% of the IT: Software & services deals that traded from 2015 – 2017 closed in the Sub $250MM EV range.
$10 – $49 MM EV range:
Industrial: Equipment & products (184)
IT: Software & services (106)
Services: Misc., asset light (52)
$50 – $249 MM EV range:
Industrial: Equipment & products (70)
IT: Software & services (35)
Media: Marketing & sales services (21)
Greater than $250 MM EV range:
Industrial: Equipment & products (10)
IT: Software & services (6)
Healthcare: Specialty clinics & centers (4)
Mezzanine lending across North America
For the three-year period, the Great Lakes was the most active region for Mezzanine transactions. It's not a surprise, given the robust number of Industrial deals requiring mezzanine financing.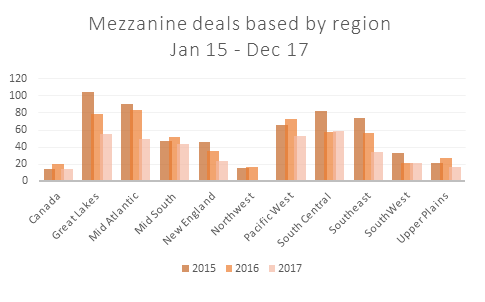 Even as mezzanine activity has steadied downwards,many noteworthy deals have closed this year that were supported with subordinated debt:
In March, Maranon Capital supported the acquisition of the California based Specialty Sales by Benford Capital Partners with mezzanine and equity co-investment. Specialty Sales is a provider of automated hoof bath systems and the preventative hoof care treatment products utilized in these systems for commercial dairies in the United States.
Also in March of this year, Business Development Bank of Canada supported Legado Capital's acquisition of Kivuto Solutions Inc with mezzanine financing. Kivuto Solutions offers academic software, e-texts and other digital resources for the academic industry.
For more information on the mezzanine market, read the latest Perspective, and sign-up to receive the Q2 Mezzanine Market Perspective that will be published this July.
Last week's deals today
May 21 – May 25, 2018
~71 deals traded!
Deal of the week
Last week, Marlin Equity Partners acquired the Providence based Virgin Pulse Inc, a provider of employee health engagement services. Evercore Partners acted as the sell-side advisor.
Most active subsectors
IT: Software & services
Industrial: Equipment & products
Materials: Chemicals, minerals, & plastics
Most active cities
New York
San Francisco
Toronto