Traveling this Memorial Day
Heading out on the road this Memorial Day? AAA is projecting 41.5 million Americans will travel, which is up 5% from last year. Furthermore, AAA expects to rescue more than 340,000 motorists due to various car troubles. A schedule was compiled by AAA for the worst days and times to travel: if you live in the New York metropolitan area, avoid driving Friday between 3:30 pm and 6:30 pm.
All this is to say, one of the busiest travel weekends is upon us which piqued my interest in Transportation sector deals.
Transportation: announced & closed deals 
It was announced this week that GE intends to merge its transportation unit with Wabtec. Per Reuters, this deal could transact for north of $11 billion. The deal is expected to close in early 2019, but the two firms have been in discussion for quite some time and see this as a good fit for both companies.
The Houston based Higman Marine was sold to Kirby Corp in February with RBC Capital Markets acting as the sell-side advisor. Highman Marine is a provider of inland marine transportation services for bulk liquid petroleum and chemical cargo.
Also in the first quarter, Highway Toll Administration was acquired by Platinum Equity's portfolio, American Traffic Solutions. Based in New York, Highway Toll Administration is a developer of electronic toll collection and violation management solutions (make sure your E-ZPass is working).
Transportation activity January 2015 – March 2018
Reviewing Transportation deals trading during January 2015 – March 2018, there was a 17% decline in the the first quarter of 2018 when compared to 2017. Moreover, Transportation deals were down 14% when comparing Q1 2015 with Q1 2018.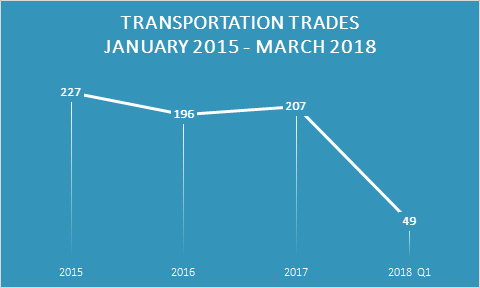 During the first quarter of 2018, the Pacific West was the most active region, followed by South Central and Southeast. Looking at the 49 deals that traded, 53% of investors were private equity firms, with 8% of those deals being sold by another private equity firm.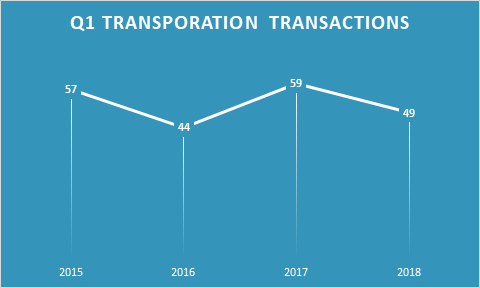 2017 Transportation activity up 6% from prior year
In 2017, 207 Transportation deals traded, with 44% closing to an equity investor. Of those private equity investors deals, 13% were sold by another peer private equity firm.
Breaking out Transportation deals by subsector, 59% of deals in 2017 traded in the Transportation and logistics services subsector. This was followed by Other services (31%) and Air, rail, & transit (9%).
The most active regions for Transportation deals in 2017 is Great Lakes, Mid Atlantic, and Pacific West. Breaking out the deals by the target's state and California (14%), Texas (8%), Illinois (8%), Florida (6%) were the most active.
As you relax and enjoy this long weekend (as you should), remember what this weekend is honoring, those who gave all. Also, remember not to drive during AAA's peak travel times or risk spending the beginning of your weekend behind a tracker trailer on I-95! Enjoy!
Last week's deals today
May 14 – May 18, 2018
~88 deals traded!
Deal of the week
The Pennsylvania based Ainsworth Pet Nutrition was acquired by J. M. Smucker Co. last week for approximately $1.7 billion. Bank of America Merrill Lynch supported the transaction with senior financing. Ainsowrth is the maker of Rachael Ray™ Nutrish® Pet Food brand.
Most active subsectors
IT: Software & services
Industrial: Equipment & products
Healthcare: Specialty clinics & centers
Most active cities
New York
San Francisco
Austin
Photo by Xan Griffin on Unsplash.