Institutional Investor's Alicia McElhaney discusses the new McKinsey report in her article, McKinsey: Private Equity Growth Drives Creative Fund Structures. It's a good read that details the explosive growth of private market transactions by more than sevenfold over the last 17 years, per McKinsey.
While the market may shift, particularly as many new investors look to private equity as a new asset class (although McKinsey's Bryce Klempner argues that "Private equity is no longer alternative, rather, it's becoming entirely mainstream."), the intermediary or financial advisor remains a crucial player in the M&A ecosystem. In 2018, there were approximately 965 active financial advisors, with the top 21 firms representing 50 or more deals in that twelve-month time-period. Below is a league table of the top 10 advisors for 2018.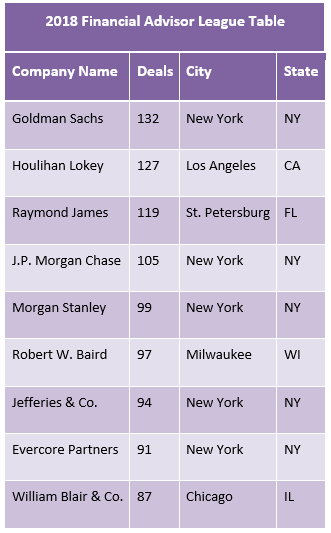 Compare this with the prior two years and there does not appear to be much deviation in the raw numbers; roughly 972 intermediaries advised on a 2017 transaction (22 firms advising on 50 or more) and in 2016 there were 955 unique advisors (21 advising on 50 or more deals). As you can see, the data is consistent. However, there are a few trends and changes to note in the firms on the board.
Missing the top-ten in 2017, Evercore Partners dropped from its top-five place in 2016. Yet, it did reappear in the eighth spot in 2018.
Bank of America Merrill Lynch did not appear in the top ten in 2016 or 2018. Yet, it was in the top-five in 2017.
More interesting is the growth of Raymond James. The Florida based company has steadily increased deal flow over the three-year period, with a 25% increase from 2016 to 2018.
The rise of Robert W. Baird, which did not make the list in 2016 or 2017 and grew 43% YOY from 2017 to 2018, appearing in the sixth spot in 2018.
While the most active intermediaries, such as Goldman Sachs and Houlihan Lokey, are not a huge surprise, the story lies in the firms that are steadily growing business and the overall churn in the industry. Overall, 34% of firms active in 2017 were inactive in 2018. Of those firms, 27% had completed two or more deals in 2017. That is a significant churn in one year, and illustrates how important it is to keeping current of the active and prolific intermediaries from year to year in an efficient manner.
For a more in-depth analysis of the most active intermediaries, or to review a league table tied to your specific market, contact us.
Last week's deals today
February 19 – 22, 2019
~72 deals traded
Deal of the week
Vista Equity Partners completed its acquisition of the business management software provider,
MINDBODY
for $1.9 billion. MINDBODY focuses its software on the beauty, health, and wellness industries. Qatalyst Partners acted as the sell-side financial advisor for this transaction.
Most active subsectors
IT: Software & services
Industrial: Equipment & products
Financial: Insurance
Materials: Chemicals, minerals, & plastics
Most active cities
Vancouver
Denver
New York