While interest rates stole headlines this week, the unemployment rate has also been on the decline. As the demand for employees has increased, so has the number of deals within the staffing and human resources industry.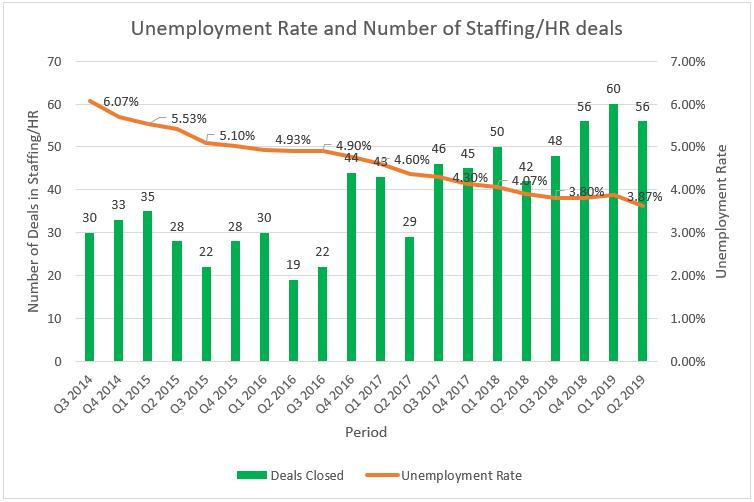 The unemployment rate has been steadily declining since hitting a high of 10% in October 2009. We're currently at a point where that number has decreased to 3.7%. While taking a closer look at the unemployment rate and the number of staffing deals, there is a significant increase in deal activity in Q4 2016 compared to Q3 2016, with deals closed increasing by 100%! The rise in closed deals during this period coincides with the unemployment rate decreasing to below 4.9%. The significant increase in deals closed between Q3 2016 and Q4 2016 may reflect the uncertainty brought upon by the 2016 election year.
Private equity firms have been very active within the staffing and human resource industry. Since Q3 2014 – Q2 2019, these firms were involved in 421 out of 766 acquisitions, marking over half of the deals within this space. Most of the deals conducted by private equity firms were used to build on platform investments. Out of the 421 deals with a private equity investor, 229 deals were add-on transactions. Almost 80% of all deals in this space were lower middle market with a transaction value between 10-49mm.
The largest deal in this space was the acquisition of Towers Watson & Co. by Willis Group in January 2016 for $9.3 billion, valuing the company at approximately 13x EBITDA. The largest deal conducted by a PE firm was the human resource platform divestiture of Aon Hewitt in May 2017 for $4.3 billion.
Speaking of employment, SPS is growing and looking to hire a Relationship Manager and a Senior Account Executive. If you or someone you know is interested, check out our careers page!
Last week's deals today
July 21 – 27, 2019
~97 deals traded

Deal of the week
New Capital Partners completed its acquisition of Florida based ACES Risk Management Corp. (dba Armco). The target provides mortgage quality control, compliance and transaction risk management technologies. Berkery Noyes acted as the sell-side financial advisor, no terms were provided.
Most active subsectors
IT: Software & services
Industrial: Misc. equipment & products
Services: Data and information
IT: FinTech
Financial: Services
Most active cities
San Francisco
Chicago
Rochester
Montreal
Photo by Marten Bjork on Unsplash