In a recent post, the Source analyzed the 2018 Intermediary League Table, and how a significant percentage of churn year-over-year is impacting the market overall. This week, the focus will be on one intermediary's profile, with a deep analysis of activity surrounding that firm.
Before digging into the analysis, it is worth taking a look at P&I Charles McGrath's Chart Central. The charts clearly illustrate the amount of dry powder private equity GPs are waiting to deploy and how its grown exponentially since 2003. In 2003, dry powder was less than $0.5 trillion, and last year it topped out at more than $2 trillion – it's an astronomical amount of money looking to be invested. Per McGrath, "high valuations have also contributed to a riskier environment with fewer attractive opportunities." This should be an interesting time for the private equity market.
Marsh, Berry & Company is a moderately active, yet growing sell-side intermediary, with roughly 100 closed deals in the three-year period ending December 2018. The firm has grown its deal volume considerably from 2016 to 2018, and more than 13% YOY from 2017 to 2018. Marsh, Berry & Company is headquartered in Ohio, yet has satellite offices in New York, Michigan, and California. Approximately 21% of the deals that the firm advised on over this period were focused on targets based in California, followed by Texas, Ohio, and Massachusetts.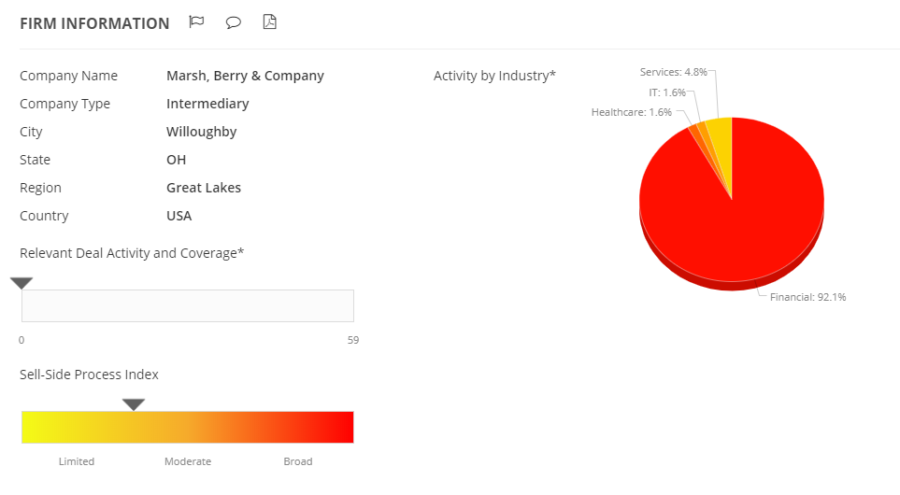 Not only has Marsh, Berry & Company witnessed significant growth over the last three years, it has expanded into new sectors, as well. In 2016, the firm was focused heavily on the Financial: Insurance sector and closed two deals in the Services: Staffing & human resources sector. In 2017, the firm expanded from these two sectors and added the Financial: Services sector to its portfolio. Finally, most impressively, last year in 2018, Marsh, Berry & Company advised on deals that expanded its reach into four new sectors: Financial: Asset Management & advisory; Financial: Lending; Healthcare: Misc. services, asset light; and the IT: Software and services sector.
Expanding into new sectors and significantly increasing its deal volume in two years marks this firm as one of the faster growing intermediaries in the market. Moreover, more than 64% of transactions that the company advised on involved a private equity investor.
Examining an intermediary's profile and deal activity in detail could be a powerful approach to navigating this competitive market. For context, over this three-year period, more than 1,320 unique intermediaries advised on a transaction. There are countless firms running limited and moderate processes that your firm should be building relationships with to direct you to those deals that are not shopped broadly in the market. By employing the SPS Portal to examine the intermediary profile of all active advisors in the market, you may be able to uncover quieter deals that fit in your wheelhouse, while also strengthening existing relationships. To learn more or investigate a particular sector or advisor, contact us.
Last week's deals today
February 25 – March 1, 2019
~114 deals traded
Deal of the week
Last week, Univar Inc. completed its acquisition of the Texas based
Nexeo Solutions
from PE investor WL Ross & Company. This acquisition creates a leading global chemical and ingredients solutions provider. Financial advisory services were provided by Moelis & Company.
Most active subsectors
IT: Software & services
Industrial: Equipment & products
Financial: Insurance
Materials: Chemicals, minerals, & plastics
Most active cities
Denver
Washington
Atlanta