This week, Heather Landi of Fierce Healthcare is reporting that private equity sponsored healthcare transactions in 2018 reached record levels, per data released from Bain & Company. According to Landi's article, "private equity deals last year rose 50% to $63.1 billion, topping 2017's level of $42.6 billion." Given the political and economic climate in 2018, it's a wonder that Healthcare deals had a record-breaking year. Although, Landi quotes the co-head of Bain & Company's global healthcare private equity and corporate M&A practices, Nirad Jain, who argues that "healthcare's sturdy fundamentals and track record of strong performance were a beacon for investors seeking a safe haven." Perhaps Healthcare transactions are now a safe bet?
Private Equity Healthcare is, healthy!
Overall, Healthcare deals increased by 4% from 2017 to 2018 (based on number of deals and not $$ volume), with sponsored Healthcare deals increasing by 12% for the same period. Reviewing the breakdown of Healthcare subsectors, Specialty clinics & centers was the most active in 2018, with 30% of closed deal activity. This is followed by Misc. services, asset light and Services to public. See the chart below for a complete breakout of private equity backed Healthcare transactions in 2018.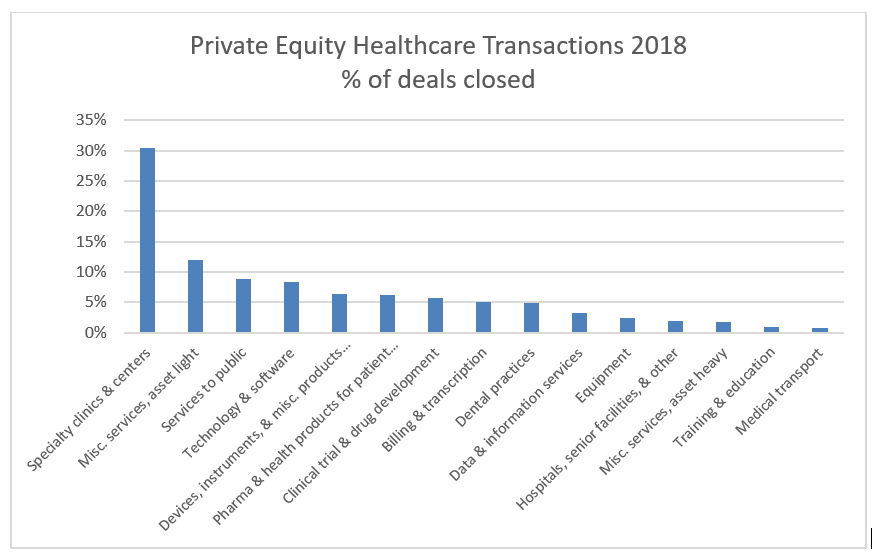 Who are the participants and where are the deals?
Webster Equity Partners was the most prolific private equity firm for Healthcare transactions in 2018 with 15 deals closing. New MainStream Capital and Chicago Pacific Founders tied for second with 14 closed deals. Finally, tying for third, Kohlberg Kravis Roberts & Co. and Thompson Street Capital Partners each closed 12 Healthcare deals during the year. Surprisingly, Nashville had the most closed deal activity for this period of PE backed healthcare transactions, followed by Atlanta and New York. Broken out by region, 17% of deals traded in the Mid-Atlantic region, followed by Pacific West (13%) and Southeast (12.8%).
As always, it's important to understand who the players are in this space. If this sector is really booming, as Heather Landi and Bain & Company argue, it's prudent for a proactive deal originator to know which firms are active and closing deals. The chart below details those sell-side financial advisors that intermediated five or more sponsored Healthcare transaction in 2018.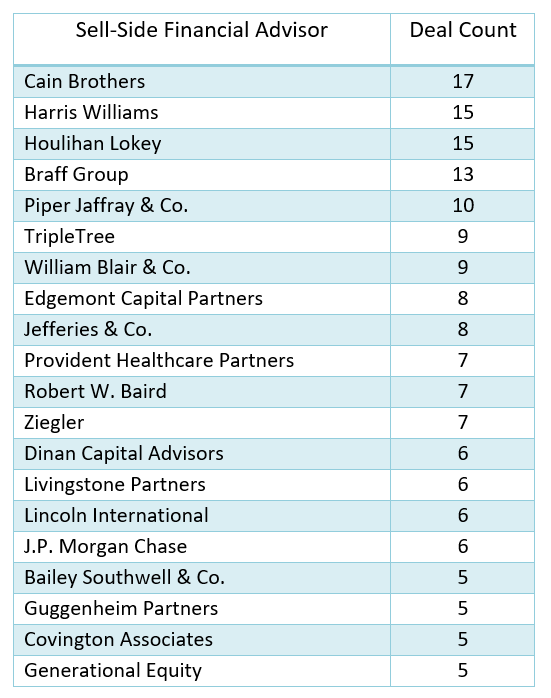 Was it all a dream?
More than 40 overall Healthcare deals traded for more than a $1 billion in 2018 and 15 of those deals involved private equity investors. 2018 was a banner year for Healthcare, and certainly one for the record books. However, while deals that closed in the first quarter of 2019 may still be unaccounted for, as it stands, the first quarter of 2019 is not as strong as the first quarters of 2018 or 2017. Healthcare will continue to be a hot issue politically, or the third-rail of politics some may argue, but what does a decline in Healthcare deal activity and valuations tell us in the year following a record-breaking year? Was it all speculative investments? Unfortunately, it's impossible to answer now, but it's worth revisiting and reviewing in a few months.
Last week's deals today
April 15 – April 19
~77 deals traded


Deal of the week
Ipsen SA completed its acquisition of Clementia Pharmaceuticals, a Montreal based developer of treatments for patients suffering from debilitating bone and other diseases. The deal was valued at $1.31 billion, with Morgan Stanley acting as the sell-side financial advisor.

Most active subsectors
IT: Software & services
IT: Services
Healthcare: Specialty clinics & centers
Construction: Services
Food: Consumable food products
Most active cities
Austin
Vancouver
San Diego
New York
Chicago
Photo by jesse orrico on Unsplash