It's that time of the year, vacations are coming to an end, pumpkin spice is in the air, and parents are anxiously waiting to send their kids back to school. While most students are mourning the end of summer, we've decided to put ourselves in their brand-new shoes and look at education related deals.
Between 2015 and June 2019, there have been 642 deals completed in the educational space, the majority of which (77%) have a transaction value of 10-49mm. The sector received a lot of attention from sponsors who altogether have closed 373 deals (58%) during this period. The chart below breaks down the deal activity by quarter and transaction range.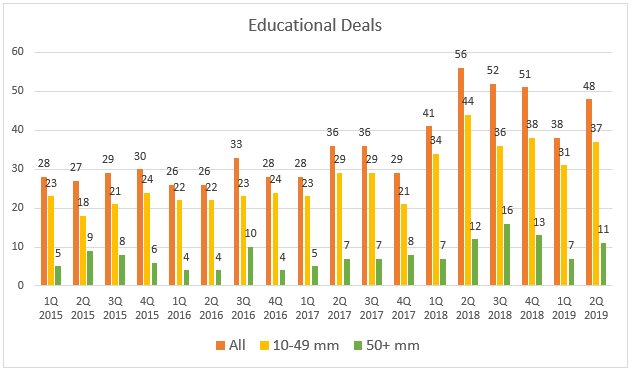 What we found most interesting within the education space was the high concentration of deals in the 10-49mm range. The sector may be prime for consolidation, as almost 34% of these deals were add-ons for an existing company. At the same time, there were only a handful of large deals, with 10 transactions above $1 billion in value during the period.
For extra credit, can you guess who's been the most active firm in the space?
Intermediary: Tyton Partners (fka Education Growth Advisors) with 26 closed deals
Law Firm: Kirkland & Ellis has worked on 19 deals
Sponsor: Leeds Equity Partners with 16 closed deals
Corporate Investor: Hondros Education Group with 5 closed deals
Last week's deals today
August 18-24, 2019
~105 deals traded
Deal of the week
Blue Point Capital Partners acquired VRC Holdings, a Milwaukee, WI based company that manufactures custom molded rubber, plastic, and sealing components. Grace Matthews served as the sell-side financial advisor and Quarles & Brady served as the sell-side legal advisor.
Most active subsectors
IT: Software & services
Services: Marketing and related
Industrial: Misc. equipment and products
Materials: Chemicals, minerals, plastics and misc.
Services: Misc., asset light
Most active cities
Chicago
New York
Toronto
Vancouver
San Francisco