With improving unemployment data signaling that the worst of the pandemic-induced economic woes are potentially behind us, and those states most heavily affected beginning to reopen, public markets responded positively these past two weeks. Most of those gains have been concentrated in businesses who would benefit the most from an economic reopening, while many of those that benefitted from a "lockdown bump" have dipped as their future prospects dimmed slightly. While sentiment seems to have turned positive, smart money knows that the mid-to-long term effects have yet to be quantified for most businesses, many of whom have struggled with liquidity these past few months.
One method to address liquidity issues has seen a distinct uptick this year. Private investment in public equity, or PIPE, deals have quadrupled in Q2 2020 so far, from 3 closed deals in Q1 to 12 in Q2, with another 8 deals announced but not yet closed in 2020. After a long downward trend since activity peaked in 2014, these 23 PIPE deals have nearly eclipsed 2019's 24 total deals.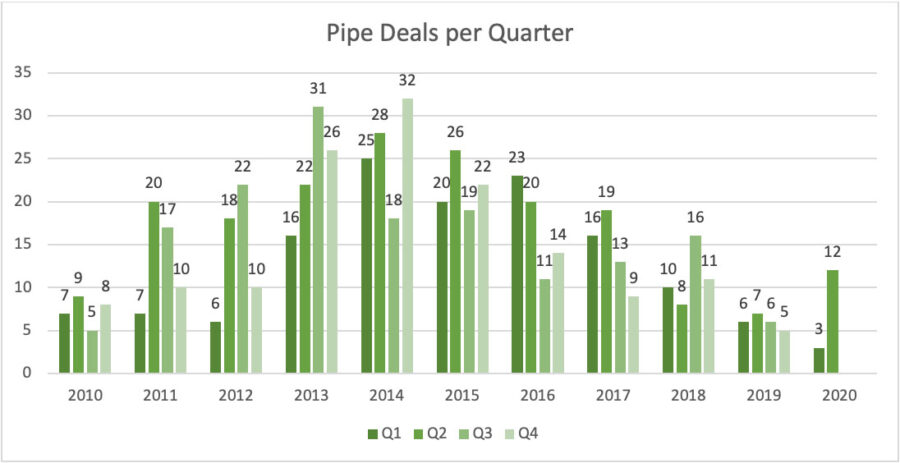 Since 2010, PIPE deals were predominantly concentrated in a few sectors, with Healthcare, Energy, and Financial collectively accounting for 55% of all closed transactions. The recent deals, however, mirror the most heavily impacted sectors of the economy, with tech-enabled Consumer and Hospitality services deals leading in volume.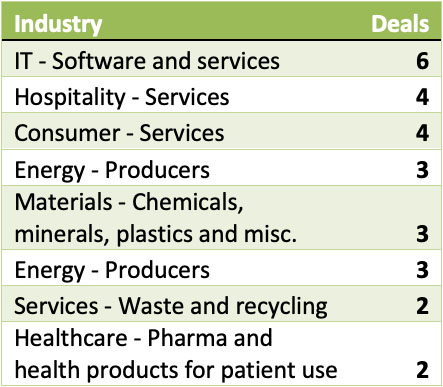 Given the continuing uncertainty over the strength of a recovery, the step-phase approach to reopening the economy, and high levels of dry powder, we're likely to see more PIPE deals close over the coming months. Should you decide that a PIPE deal is a good fit for your portfolio, SPS can help to identify which Advisors, Lenders, and Law Firms have the requisite experience to shepherd you through to close.
Last week's deals today
May 24-30, 2020
~50 deals traded

Deal of the week
NSI Industries, a portfolio company of Odyssey Investment Partners, has acquired Polaris Electrical Connectors Inc.  Based in Odessa, FL, Polaris manufactures pre-installed multi-tap connectors.
Most active subsectors
IT: Software & services
Healthcare: Clinical trial and drug development
Food: Food related products and services
Photo by Erlend Ekseth on Unsplash