What's impacting the Construction market?
Per PWC's 2017 Engineering and Construction Trends – Survival of the biggest (part of its Strategy& series), contracting, consolidation, and competition are reshaping the engineering and construction market.
A little more detail
The trends outlined by PWC in this report indicate that the E&C industry is suffering from tougher contracting, resulting from more savvy clients demanding more from contracts, as well as the rise of PPPs (public-private partnerships). The market is also consolidating. As there are fewer players, there are less M&A transactions in the construction market as a whole. Additionally, competition from China, Korea, and India is ramping up, as these firms look to the global market to expand their businesses. And, as noted in the article, "These firms' expansion efforts could require them to buy assets and build up critical capabilities" (PWC, 2017).
Funds focused on construction should consider this report; it outlines these three trends in concise detail. Plus, it also articulates areas for companies to concentrate their efforts towards to offset these disruptions.
With that, the numbers…
Sifting through SPS' data, the second quarter of 2017 saw the highest number of construction deals traded, since its peak in Q4 2015. There are other factors contributing to the excessive volume of deals closed during that 2015 period; however, the second quarter of 2017 is the closest we have come to meeting that level of activity.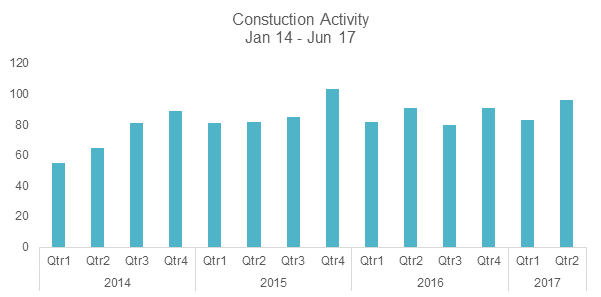 Over the 14-quarter period, the most active region for Construction deals was South Central. This region encompasses Texas, Missouri, Kansas, Oklahoma, and Arkansas. The most recent quarter (Q2 2017) saw 17% of activity from the Mid-Atlantic region, and a mere 11% from South Central.
What about subsectors?
As we further examine the Construction industry over the past several years, let's inspect the deeper subsectors. The Construction Services segment totals 42% of the market from Jan 14 – Jun 17. This sector outdoes Building Materials by more than 100 transactions. Though, when looking at the first half of 2017, Building Materials is the most active subsector with 39% of deals trading.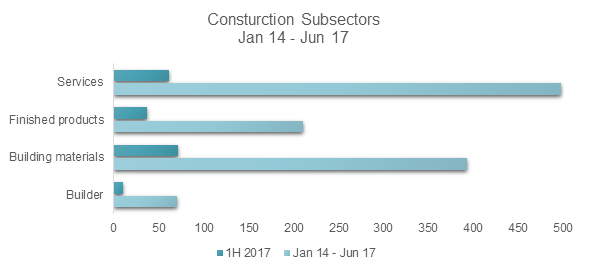 On a more somber note, our thoughts and prayers are with the residents of Houston, Texas, the surrounding area, and all those affected by Hurricane Harvey. While an event of this magnitude will undoubtedly influence the above trends, our current focus is on the people that were impacted as they rebuild and recover. Godspeed, Texas.
Photo by Matthew Hamilton on Unsplash.