Headlines and markets are focused on Facebook CEO, Mark Zuckerberg, who testified earlier this week before both Senate and House Committees. Data privacy and security is vital and deserves a serious conversation. The risks should be made clear and addressed, especially as we consider what robots and intelligent automation have in store for our future, including deal sourcing.
Better fund performance via better data utilization
As part of a Spring sourcing rejuvenation, last week the Source discussed solutions to remove dead weight from your contact list. In a continuation of the removing old and inactive relationships theme, a sourcing refresh to consider this Spring – concentrate on those intermediaries that employ closing processes that fit your investment criteria and strategy.
For deal originators eager to implement an intelligent and actionable deal sourcing approach, leveraging SPS' Sell-Side Process Indicator and Index will help to make an opaque and fragmented market more transparent.
Understanding an industry's sell-side process
An examination of the top five most active industries in 2017 indicates that the majority of deals in these five sectors engage in a limited to moderate sell-side process. Though, 51% of transactions in the Industrial sector did employ a broad auction process. When broken out by the Industrial subindustries, 54% of transactions trading in the Industrial: Equipment & products employed a broad auction process, whereas 42% of the transactions in the Industrial: Services subsector did so.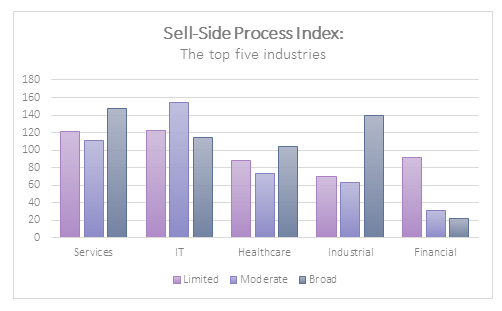 Why does it matter what closing processes are employed at the deal level?
We've been saying it for a while – and it sounds trite –  2018 M&A activity is robust and competitive. This market is trying for those attempting to deploy capital on worthy assets at such high multiples. Specific details on transactions, especially those transactions that are germane to a professional's sourcing tactic, are key to understanding the overall market. A possible means to avoid high purchase multiples, particularly for agnostic investors, is to perhaps circumvent (or seldom partake in) those sectors that employ more broad auctions processes. Building relationships with firms that utilize quieter processes may lower the purchase multiple for a particular transaction.
20/20 vision with 20-20 Technologies, Inc.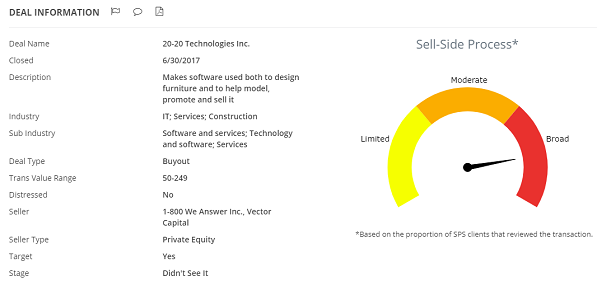 To appreciate the benefits of the Indicator, let's evaluate the 20-20 Technologies, Inc. deal that touches the IT, Services, and Construction industries. The San Francisco based private equity firm, Golden Gate Capital acquired 20-20 Technologies from 1-800 We Answer Inc. and Vector Capital in June of 2017. William Blair & Company acted as the sell-side advisor on this transaction. Per SPS' proprietary Sell-Side Process Index, the 20-20 Technologies transaction registered as a broad closing process. This denotes that this deal was a widely shopped transaction, as calculated by SPS' proprietary algorithm.
William Blair & Company
Let's dig deeper into the aforementioned William Blair. Perhaps not surprising, the company employs a broad closing process, relative to its peers, to shop the bulk of its deals. The firm is active in an array of industries and regions. For originators, A broad classification by the Sell-Side Process Index indicates the level of competitiveness of a deal intermediated by William Blair and what to expect when viewing pitchbooks provided by this firm.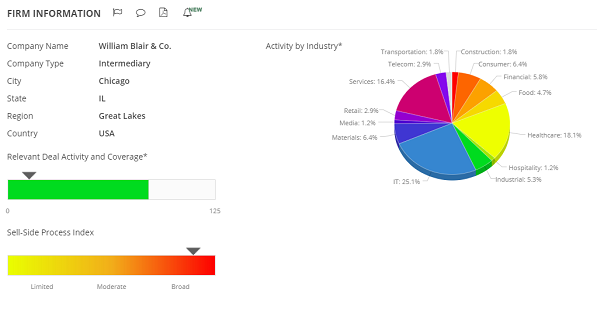 The power of this tool to extract relevant deals based on target criteria brings transparency to a significantly fragmented market. Gauging a sell-side advisor's closing process is a useful measure to spring clean your sourcing strategy. Focus on those advisors that point you to the deals that fit your investment criteria, and deprioritize those that do not.
Last week's deals today
April 2 – April 6, 2018
~178 deals traded!
Deal of the week
Clayton, Dubilier & Rice completed its acquisition of American Greetings Corp. last week. Centerview Partners acted as sell-side advisors on the deal and Jones Day acted the legal advisor.
Most active subsectors
IT: Software & Services
Industrial: Equipment & Products
Services: Misc., Asset Light
Financial: Insurance
Financial: Services
Most active cities
New York
Houston
Seattle
San Diego
Cleveland
Photo by Rodion Kutsaev on Unsplash