When you're a hammer, everything is a hard drive
We don't just preach, we practice! Yesterday, SPS performed a little spring cleaning of its own by destroying a few old hard drives. A great means to release pent-up hostility towards the machines that constantly require updates and crash excel.
Attractive investments are difficult to source
A recent Bloomberg Gadfly piece by Nisha Gopalan discusses the perils of too much dry powder, as well as the advantages that Asia can provide the US private equity market. Per the article, 2017 was a boom year for private equity transactions in Asia, up 41% from 2016 and surpassing the record setting year of 2015. In this market, it's difficult to find quality and attractive investments, which Gopalan argues could be an opportunity for PE investors to look East to deploy capital.
What's the story from the first quarter of 2018?
We know it is early to compare the overall number of deals trading in the first quarter of 2018 to prior first quarter periods, however it's worth noting the continuing decline in deal volume, as its down 19% since Q1 2015.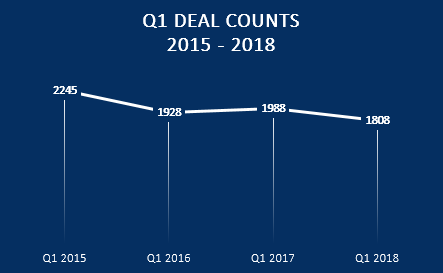 As an aside, when comparing activity in the first quarter of 2015, 2016, 2017, and 2018, the most active region in 2017 was the Great Lakes, which is a deviation from the other three quarters. As we detailed at the time, the Great Lakes region outperformed the rest of the country with more than 15% of deals closing in Q1 2017. Comparing this to Q1 2018, the most active region is the Mid-Atlantic (16%), followed by the Pacific West (14%) and the Great Lakes (13%).
How do you shop for deals?
As firms continue to vie for quality deals in this competitive market, deal originators should consider the closing processes employed by investment banks active in their space, as well as the overall trends in the sectors they invest in.
As recorded last week, the Industrial: Equipment & products subsector mainly utilizes a broad auction closing process, per SPS Sell-Side Process Index. In the first quarter of 2018, of those intermediated transactions closing to an equity investor in the Industrial: Equipment & products, 51% of deals traded employed a broad auction process. Whereas in the It: Software & services subsector, 27% of deals employed a broad process, and more than 43% utilized a moderate closing process.
Notable & quotable transactions
Consumer Home Goods:
January 29, 2018: Town & Country Holdings Inc., based in Lakewood, NJ, is a producer of table linens, kitchen textiles, rugs, and solution-based home products. The company was acquired by H.I.G. Capital. Financo intermediated this transaction and Prospect Capital supported the deal with senior debt.
Consumable Food Products:
February 5, 2018: ConAgra Foods Inc. completed its acquisition of the Milwaukee, WI based Sandwich Bros. from Kangaroo Brands Inc. Sandwich Bros. produces frozen breakfast and entrée flatbread sandwiches. Chapman Partners acted as the sell-side advisor on this transaction and Quarles & Brady was the sell-side legal advisor.
Financial Asset Management & Advisor:
March 7, 2018: The London equity investor, Permira Advisers, bought-out the New York based, Duff & Phelps Corp. which offers financial advisor and investment management services for $1.75 billion. The sell-side financial advisor on this transaction is Evercore Partners, and the sell-side legal advisors are Kirkland & Ellis LLP, Morgan, Lewis & Bockius, Wachtell Lipton, Rosen & Katz.
Last week's deals today
April 9 – April 13, 2018
~99 deals traded!
Deal of the week
Amazon.com, Inc. completed its acquisition of the Santa Monica based Ring Inc. last week for $1B. Ring is a manufacturer of so called smart doorbells that allow for remote monitoring. J.P. Morgan Chase acted as the sell-side advisor. Per MarketWatch, Ring was rejected by the show 'Shark Tank' in 2013.
Most active subsectors
IT: Software & Services
Industrial: Equipment & Products
Financial: Services
IT: Services
Services: Marketing & Related
Most active cities
New York
San Francisco
Houston
Austin
Boston
Photo by Patrick Lindenberg on Unsplash