Considering deploying capital? Enjoy working with Sponsors? To hit the ground running in 2018, wouldn't it be helpful to know which private equity firms closed a deal for the first time this past year? Over the last twelve months, more than 2,930 transactions that traded involved a sponsor. Included in this deal count are more than 1,320 unique PE firms and approximately 1,500 unique PE professionals.
How many of those transactions included new sponsors?
More specifically, the number of new sponsors that closed a deal for the first time in the first quarter of 2017 was nearly 82 new firms. Moreover, there were 90 additional new private equity firms in the second quarter and the third quarter saw 67 new equity investors. So far in the fourth quarter, there have been 53 new sponsors and 82 new professionals.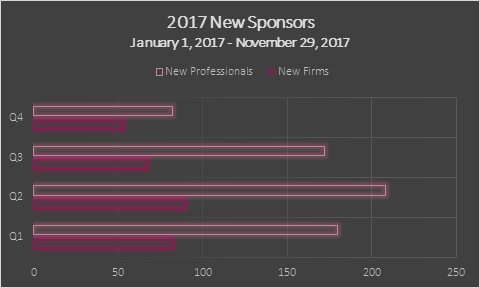 That was a lot of numbers, but stay with me…
Of the 2,930+ transactions, most deals traded in June of 2017. The most active sectors for these transactions were Services, IT and Healthcare. Mid-Atlantic, Great lakes, and Pacific West were the most active regions; however, segmented further, California, Texas, and New York were the most active states.
How can this data help Mezzanine and Senior Lenders in 2018?
To put all this data into perspective, the first three quarters of 2017 saw an average of 180 new private equity professionals per quarter. These are new professionals to potentially introduce yourself to. Furthermore, each quarter there was an average of 80 new funds that may require financing in the near term. This is very important for Mezzanine and Senior Lenders to grow and expand their businesses.
Here's a great illustration of why this should matter to you: Hidden Harbor Capital Partners was a brand-new fund active in 2017. In fact, their first platform investment closed in the middle of the third quarter, and you guessed it – it involved senior debt financing provided by Monroe Capital. Later in the third quarter, Hidden Harbor invested further with an add-on to its original platform. Wouldn't you have enjoyed this shout-out by supporting these transactions with debt financing? Build your relationships early and often – it may pay-off in 2018.
For comparison, earlier this year I wrote a piece about the new 2016 sponsors.
Last week's deals today
November 20 – November 24, 2017
43 deals closed!
Deal of the week
New Mountain Capital purchases VWR Corp for ~$4.38B through its Avantor Performance Materials Holdings portfolio.

Most active subsectors
Food: Consumable food products
IT: Software & services
Financial: Services
Services: Asset light

Most active states
Massachusetts
Texas
California
Montreal, Canada

Photo by Jimi Filipovski on Unsplash.