Investors are cautious as they search for quality investments 
As we've been reporting for some time, the market continues to favor sellers and sponsors remain cautious as they attempt to deploy capital on worthy assets and investments. PwC indicates as much in its Private equity deals insights: Q1 2018 piece. Per PwC, deal activity has continued to decline as a result of current market conditions; moreover, funds are focusing on "their portfolio companies to get ready for exits in a period of high valuations."
In a post from February of this year, SPS discussed the then state of private equity exits. Previously, many analysts had argued that 2017 would be the year of the exits, but the data did not confirm this theory. Now, there is reason to believe that 2018 will see a rebound, as sponsors take advantage of the high valuations and other market factors.
Private equity exits in May
Prophet Equity exited from the Coppell, Texas based CID Resources Inc., a provider of branded medical uniforms. Piper Jaffray & Co. acted as the sell-side advisor for this transaction, with Jackson Walker acting as the sell-side legal advisor. Superior Uniform Group, based in Seminole, FL, acquired CID Resources, Inc. for approximately $88.4M.
Recap of first quarter exits
Where do exits stand in 2018? At the time of our February post, there were 65 exits for the year. Examining the 1,879 deals that were completed overall in the first quarter, 168 of those deals were private equity exits, with 58% of those exits trading to another private equity investor.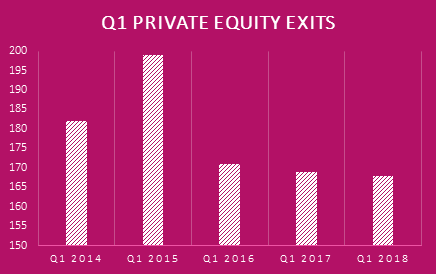 Comparing these private equity exits with the first quarter of 2017 and 2016, the numbers are relatively consistent. Geographically, the most active cities for exits in the first quarter are what you would expect: New York, Houston, Toronto, Atlanta, and Boston. Moreover, 70% of exits were in the sub $250 M EV range. Again, not surprising as this is the most active transaction value range for middle market investments.
The active intermediaries & sponsors
44% of the private equity exits in the first quarter were intermediated by large-tier, sell-side investment banks (this includes intermediaries that advised on at least 20 deals or more in 2017). Reviewing those PE exits that traded to another PE firm, 46% employed a large-tier investment bank.
The most active sell-side advisors in the first quarter are Lincoln International, Harris Williams, and William Blair. When looking at those intermediaries that advised on private equity exits trading to another private equity firm, the aforementioned list includes Goldman Sachs and Raymond James.
In the first quarter of this year, Sun Capital Partners, Lasalle Capital Group, Carlyle Group, and HIG Capital were the most prolific private equity sellers, and their transactions accounted for 8% of all exits for the quarter.
Is there a way to capitalize on the momentum?
The market for exits has yet to reach its highs of 2015, however 2018 has remained consistent with the first quarter of the prior two years. Next month, SPS will be releasing its PE Harvest Report which details all of the private equity portfolio companies that may be ready for exit. The June 2017 edition of the Harvest Report highlighted over 4,600 PE portfolio companies that were acquired between 2010 – 2014. Stay tuned for the release of the June 2018 Harvest Report, as well as an activity update from the 2017 edition.
Last week's deals today
May 7 – May 11, 2018
~93 deals traded!
Deal of the week
Comvest Investment Partners completed its acquisition of the Cranbury, NJ based RugsUSA, an online retailer and supplier of area rugs and home décor products. Lazard Middle Market acted as the sell-side advisor on the deal.
Most active subsectors
IT: Software & services
Industrial: Equipment & products
Healthcare: Specialty clinics & centers
Financial: Insurance
Most active cities
New York
Toronto
Houston
Austin
Photo by Michael Jasmund on Unsplash.