You may not realize that you're participating in a revolutionary industry when you split a bill with friends using Venmo, buy stocks through an online brokerage such as Schwab, or track M&A activity through SPS. The adoption of technology within the financial industry has led to increased volume of business, lower costs for consumers, faster/safer transactions, better service, and improvement in overall efficiency.
FinTech is a relatively young industry that refers to payment processors, robo-advisors, data providers (just to name a few), and it continues to expand into new spaces such as blockchain technology and crowdfunding. As FinTech grows to touch more segments of finance, it gains a growing interest from both Private Equity and Corporate investors who seek growth opportunities amidst this changing environment.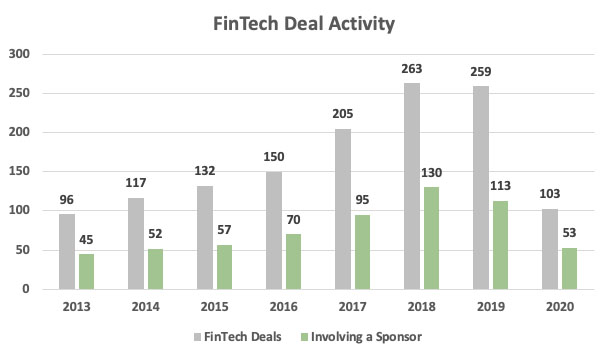 Since 2013, FinTech deals have increased 18.6% YoY. The biggest jump was between 2016 and 2017, with 150 deals closed in 2016 and 205 in 2017, a 36.6% increase. The number of deals in 2020 have decreased significantly and according to Deloitte, many FinTech companies are under stress brought on by COVID-19. They go on to state that social distancing has led to tremendous growth and may create new opportunities for those companies willing to act boldly.
There were 220 sell-side intermediaries involved in this space since January 2013, with over 70% of deals falling between the $10-49mm range. Raymond James was the most active, completing 58 deals over this period. Financial Technology Partners (aka FT Partners) came in second, advising on 48 deals or 63% of their total sell-side deals.
Over the years, Corporate and Equity investors have shared this market well with 46.4% of deals involving a Financial Buyer. Vista Equity Partners has been the most active in this space, closing 22 deals in North America since January 2013. On the corporate side, Mastercard was the most active buyer in recent years, with 5 out of 7 deals closed between 2019-2020, and an $825 million acquisition currently pending with Finicity. Other large Corporates  active in the space include household names such as J.P. Morgan Chase, Moody's, Visa, Thomson Reuters, eBay and Paypal.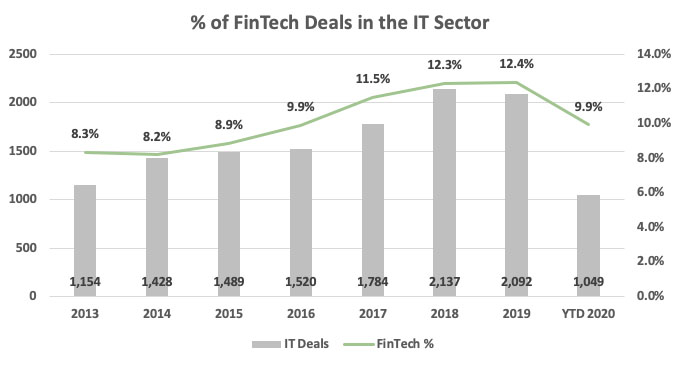 While 2020 has given many industries it's fair share of challenges, FinTech seems to be well positioned to face any obstacles and continue growing. The percentage of Fintech deals in the IT sector has continued to increase up to 2019 and may continue to rise as more financial services adapt technology. As everyone competes to grab a slice of this market, it wouldn't be surprising to see more IPO's, acquisitions, and large companies entering the space, such as Facebook with Facebook Financial, Apple with Apple Pay, and Goldman Sachs with Marcus.
Last week's deals today
August 9 – 15, 2020
~80 deals traded

Deal of the week
Newborn Advantage, a Dallas based surrogacy agency, was acquired by Santa Monica Fertility Center LLC (aka SMF), a portfolio company of Webster Equity Partners. Forrera Group acted as the sell-side financial advisor and Goodwin Proctor provided buy-side legal counsel. No terms were provided.
Most active subsectors
IT: Software & services
Financial: Services
Services: Misc. asset light
IT: Services
Services: Facilities maintenance and landscaping
Most active cities
New York
Toronto
Houston
Miami
Irvine
Chicago
Vero Beach
Dallas