Cheers to a year of the Source!
For the past twelve months, the Source has covered a range of topics that have spanned the sublime to the ridiculous. And, don't worry, I've big plans for 2018. But, I wanted to say thank you to our readers who have joined us, and allowed us to toy with different themes and ideas. So, thank you and cheers to a year of the Source!
And back to business…
When Deloitte released its 2017 Travel and Hospitality Industry Outlook, it predicted more of the same for 2017, as was anticipated for 2016. This includes global shifts in the "economy, game-changing innovation, geopolitical turmoil, natural disasters, pandemics, and rising consumer demands reshaped the travel landscape." There are many factions impacting this sector as a whole, if interested in Hospitality, it's a worthwhile read.
With Hospitality top of mind, let's see how 2017 is playing out. Year to date (January 1 – November 15, 2017), 204 Hospitality transactions have traded. Comparing this with the same time last year, 193 deals closed from January 1 – November 15, 2016, with a total of 221 for the entirety of 2016. More interesting, for the same period ending November 15th, the deal volume has decreased with 220 deals closing in 2014 and 217 deals closing in 2015.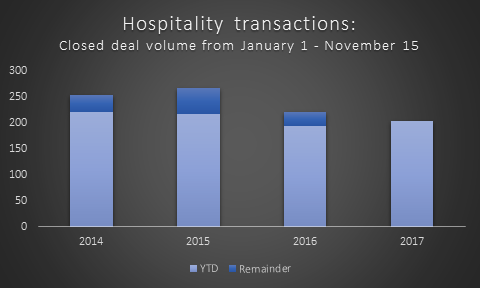 44% of Hospitality transactions traded in the Services subsector. This is followed by Restaurants (26%), Resorts & Casinos (13%), Fitness & Health (11%), and Theaters & Entertainment (7%).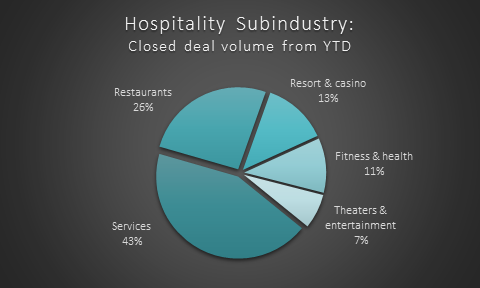 52% of Hospitality deals closed YTD were sponsored-backed. Moreover, 60 unique intermediaries advised on these transactions, with 9 intermediaries involved in three or more deals. Many of these deals were closed in May, followed closely by September and October. So far, most transactions or 17% have traded in California, followed by New York (11%) and Florida (8%).
Finally, 2017 has seen numerous bulge bracket Hospitality deals. One of the largest transactions so far, was the acquisition of Popeyes Louisiana Kitchen by 3G Capital in March 2017.
Thank you again for reading the Source. I'll be too busy eating stuffing and drinking prosecco next week, so there will be no post. Happy Thanksgiving!
Last week's deals today
November 6 – November 10, 2017
Approximately 101 deals closed!
Deal of the week
Red Ventures, LLC acquired Bankrate for $1.24B, a consumer finance services firm based in New York.

Most active subsectors
IT: Software & services
Industrial: Equipment & products
Services: Marketing & related
Services: Asset heavy
Most active states
California
New York
Canada
Pennsylvania
Texas
Photo by Michael Browning on Unsplash.