Of the 23-new sell-side intermediaries that closed a deal for the first time in Q2, approximately 20% of those deals closed in the Food sector, followed by 15% in both the Consumer and IT sectors (the pie chart details all sectors that had a least one deal closed by a new intermediary). The bulk of these deals closed in the Pacific West region and Canada, followed by South-central and Southeast.
Where will your next deal take you?
If your fund is active in these regions or sectors, try connecting with these new intermediaries to build early relationships, before the competition can do the same. Although, let's be strategic when connecting with these new deal sources. By using tactical bits of transaction data, you can figure out which cities or regions will provide the most bank for your buck.
Let's say you are a Food focused fund. Looking at all deals that closed in Q2, the Pacific West should certainly be on the list of regions to visit. This includes Los Angeles and San Francisco, as these cities were the most active for Food transactions (including those Food deals closed by a new deal source in the second quarter).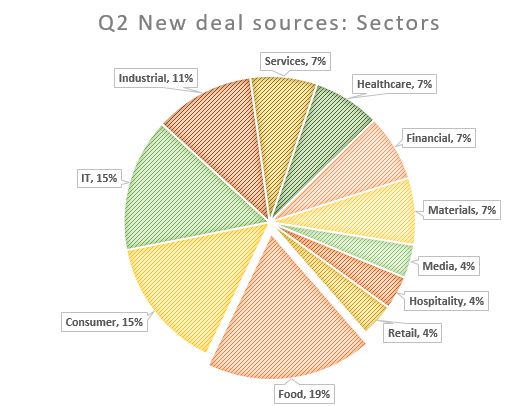 Next, it's important to know where the intermediaries are located who are closing these transactions. Nearly 40% of intermediary professionals that closed a Food transaction in Q2, were themselves located in either the Pacific West or Northwest regions. Review the heat-map provided; it details where professionals are located that advised on a Food deal in the second quarter. Thus, for sponsors focused on Food transactions, the West Coast would be a strategic region to visit when planning marketing travels.
The same approach can be taken for the Consumer or IT sectors (or, any sector for that matter). Hint: head to the West Coast, both sectors had the highest deal activity in the Pacific West, as well as a plurality of professionals.
There are countless ways to use data and tech to source more effectively. This Fall, as travel plans take hold, look at the numbers – does it really make sense to spend most of your time in Chicago or New York?