Stanford economist Paul Romer once quipped to a room of VCs that "a crisis is a terrible thing to waste". As we continue to limit travel and face-to-face interaction, we're increasingly reliant on digital tools to fill the gaps in our ability to communicate and interact with each other. As we lean more heavily on technology, these same tools are gathering and storing more information about our online and offline lives than they ever have before; often sharing information with each other that is then indexed for searchability and easy access in the cloud.
According to information security firm Zscaler there was an 85% increase in phishing attacks targeting remote enterprise users between January and March of this year. Google's Safe Browsing services found an approximate 13% increase in the number of active phishing sites from January of this year through May, while detecting nearly twice as many new phishing sites per day in May than in January. Black hat hackers, scammers and other malicious actors seem to have taken Romer's advice to heart. Remote work and distributed teams are the new normal, so are we adequately prepared to protect ourselves from these threats?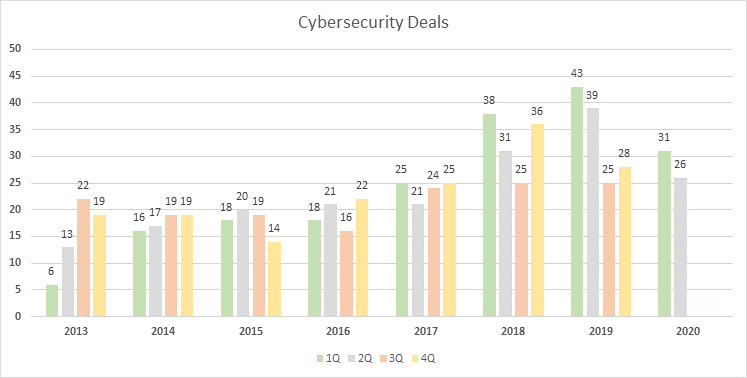 Cybersecurity and information security deals, after years of flat volume, saw double-digit YoY growth since 2017. While the data does not point to another increase in total deal volume this year, 2020's activity is on pace to match 2018's, with H1 2020 greater than that of H2 2019. Software deals outpaced Services deals 35 to 22 in the first half of 2020, consistent with historical ratios.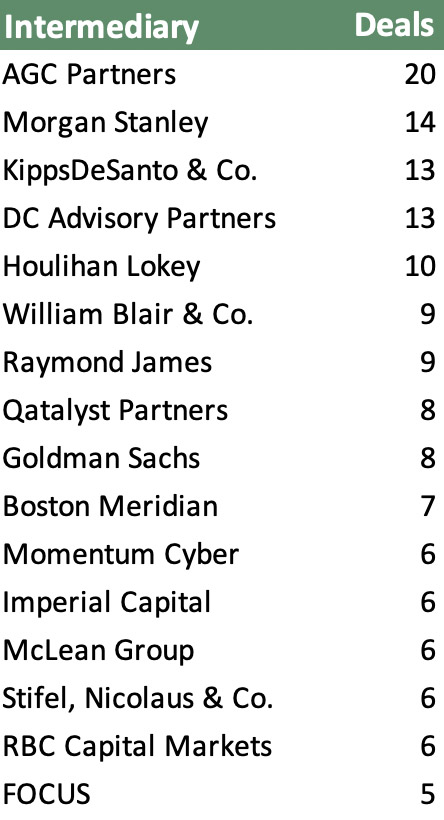 Looking at the sell-side financial advisors acting as intermediaries on Cybersecurity deals since January of 2013, America's Growth Capital leads the pack in a heavily fragmented market. Digging through SPS data reveals several advisors with a sustained focus in this space, notably Momentum Cyber, Imperial Capital, Boston Meridian, and KippsDeSanto, with Cybersecurity comprising between 35% to 67% of all IT deals they advised on.
High profile hackings such as those affecting Target Corporation, Sony Pictures, Equifax Inc. and the Democratic National Committee in 2017 were likely a key contributor in the rise of Cybersecurity-related deal volume. Given the unprecedented, pandemic-induced shift away from corporate networks to residential ISPs this year, the need for secure internet access makes the future of this segment of the IT market look strong. PE firms, especially those with a tech focus, would be wise to follow the data and heed Romer's words as they round out their portfolios and reinforce their information security capabilities.
Last week's deals today
July 5 – 11, 2020
~91 deals traded

Deal of the week
Exostar LLC, a Virginia based cloud service provider, was acquired by Thoma Bravo. America's Growth Capital (dba AGC Partners) acted as the sell-side financial advisor and Latham & Watkins served as sell-side legal advisors. Kirkland & Ellis provided buy-side legal advice for this transaction. No terms were provided.
Most active subsectors
IT: Software & services
Industrial: Misc. equipment & products
Financial: Insurance
Retail: Specialty
Financial: Asset management and advisory
Services: Facilities maintenance and landscaping
Most active cities
Toronto
Austin
Roseville
Denver
San Francisco
New York
Chicago
Minneapolis
Photo by stephen momot on Unsplash