Late last week, SPS released its quarterly Mezzanine Market Perspective, which focuses on market trends and transaction in the mezzanine space. It also provides data pertaining to transaction activity on a quarter-by-quarter basis going back to Q1 2012.
Closed mezzanine transaction volume was down 6% for the 12-month period ending June 2017. Moreover, comparing the first and second quarters of 2017, financings were down more than 15%.
What is causing the decline in deal volume for the mezzanine debt market?
Observing overall mezzanine deals for the three-month period ending June 2017, 61% of deals financed were sponsored transactions. This is down slightly from the previous two quarters, but on par with the middle half of 2016 (Q2, Q3). Consistent with Q1-2017, more than 77 mezzanine lenders participated in a deal. Finally, 11.5% of new platform PE investments had a mezzanine component, compared to 15% of new platform PE investments in Q2 2016.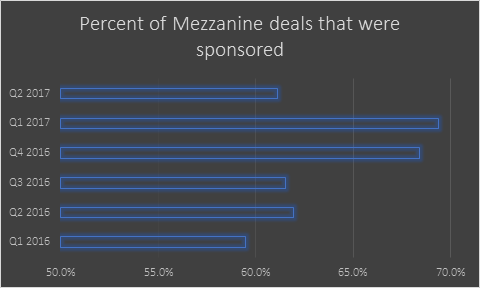 Texas was the most active state for this period (April 2017 – June 2017), followed by California and a tie for third between Florida and Georgia. Unexpectedly, much of the debt deals in Texas were financed in the Services and Industrial sectors.
Healthcare deals represented 22% of the total market
After researching and writing this quarter's issue of the Mezzanine Market Perspective, I was intrigued by the high-volume of Healthcare transactions. Healthcare focused deals were the most active sector in this period and represented 22% of the total mezzanine market. The most active states for these deal-types were Georgia and Maryland, each closing at least four mezzanine Healthcare transactions. Maryland also had two of the largest deals for the quarter. In fact, all the mezzanine transactions that traded in Maryland were Healthcare specific.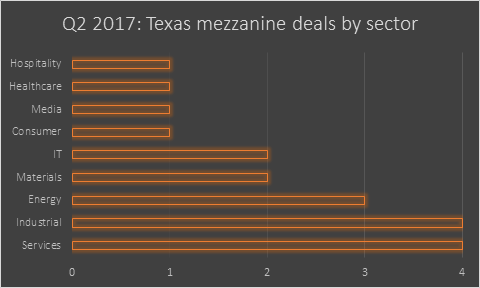 When comparing the first-half of 2016 with the first-half of 2017, mezzanine transactions were down by nearly 12.5%. Whereas, overall sponsored transactions (both mezzanine, and non-mezzanine deals) were up by 6% in the first-half of 2017, compared with the first-half of 2016. It may be too early to answer the question of why this decline is occurring; however, 2016 at first appeared lackluster for the mezzanine market, but did end the year on a positive note. Given the data lag for mezzanine transactions, the second-half of 2017 may end up redeeming this market for the year.