Attempts for Healthcare legislation and mega Healthcare mergers were all the buzz in 2017. The recent news surrounding the CVS Health- Aetna deal, the failed Anthem-Cigna merger from earlier this year, and the plethora of technological opportunities for this industry overall, enticed me to save this sector for the end of year. There is always news to be made in this industry.
Examining Healthcare transactions that traded over the four-year period between January 1, 2014 – December 11, 2017, the most Healthcare transactions traded in the third quarter of 2014. As you can see, Healthcare deals have bounced around the same levels, but have not come close to its Q3 2014 volume.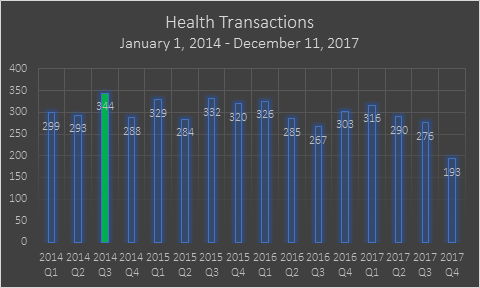 Segmenting Healthcare transactions by subindustries, and one will notice that in the first quarter of 2017, the Specialty Clinics & Center subindustry had the highest volume of deals per subindustry with 7% of overall deals trading in this subsector. Furthermore, this is the single most number of deals that traded in any subindustry between January 1, 2014 – December 11, 2017.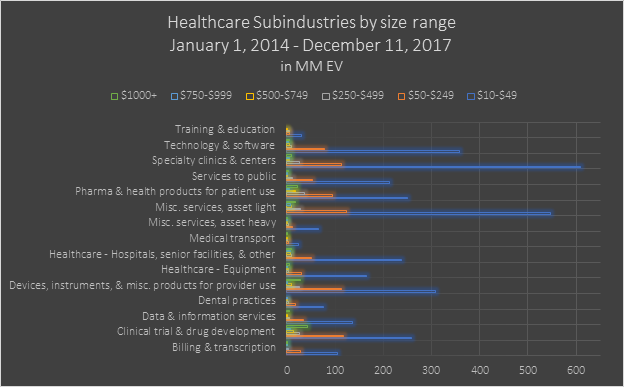 Digging a little deeper into the subindustries, over the nearly four-year period, most transactions traded in the sub-$50 EV range. Once again, most deals traded in Specialty Clinics & Center, followed by the Misc. Services, Asset Light and the Technology & Software subindustries.
Overall, 2017 has seen more than 6,930 transactions closed. Of those, Healthcare deals were the third most active sector with approximately 16% of the market.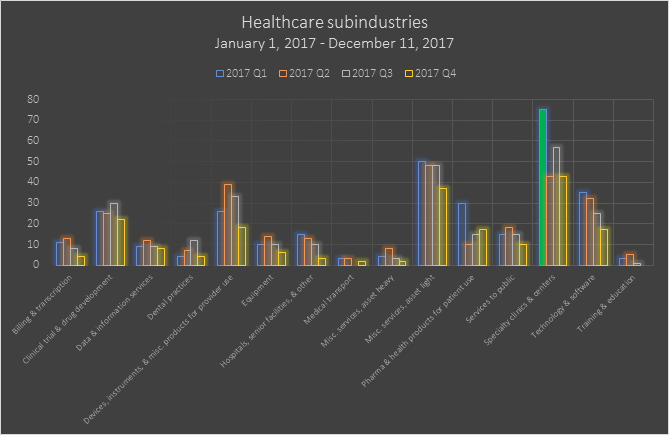 Reviewing specifically 2017 Healthcare transactions, the Specialty Clinics & Center and Misc. Services, Asset Light are the top two subsectors respectively. Yet, with 117 deals trading YTD, the Devices, Instruments, & Misc. Products for Provider Use is the third most active subsector for the year.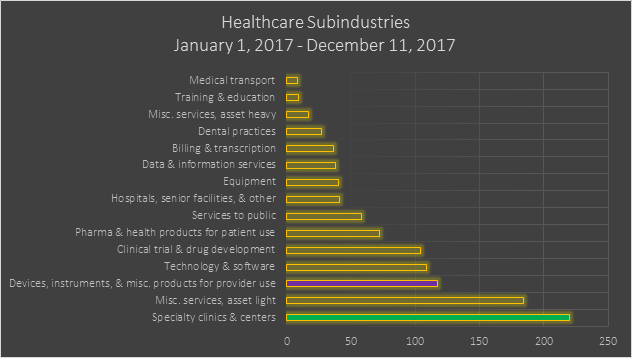 More than 202 unique Intermediaries advised on these transactions, with the most intermediated deals trading in the Misc. Services, Asset Light subsector (56 unique Intermediaries), followed by Specialty Clinics & Center (40 unique Intermediaries), and Devices, Instruments, & Misc. Products for Provider Use (36 unique Intermediaries).
We have yet to close the books on 2017, but as it stands, the Healthcare sector was very active, and there are a lot of Financial Advisors active in this industry. Lots of potential to expand your relationships and deal sources in the coming year.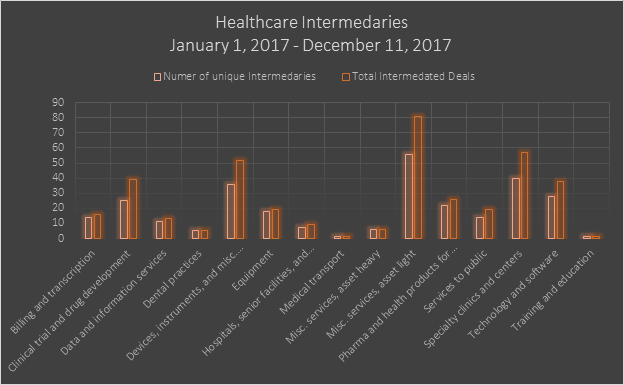 Last week's deals today
December 4 – December 8, 2017
~121 deals traded!
Deal of the week
Sticking with the healthcare theme, Kohlberg Kravis Roberts & Co. completed its acquisition of PharMerica Corp. for $1.4B.
Most active subsectors
IT: Software & services
Industrial: Equipment & products
Services: Marketing & related
Services: Misc., asset light
Consumer: Misc. products
Most active states
California
New York
Ontario
Texas
Pennsylvania
Photo by Jamie Street on Unsplash.