This past weekend the New York Times published The Uncertain Future of Midtown in which the former Time & Life Building serves as a microcosm for the pandemic's far-reaching economic impact, and the uncertainty it has cast over the future. Uncertainty is anathema in an economy driven by consumption, leading to anxiety which in turn leads to reduced spending and persistent recessionary effects as seen in today's announced drop in Q2 GDP.
Five months ago as the world rapidly pivoted and uncertainty reigned, we saw entire industries such as hospitality and travel find themselves on life support seemingly overnight. Private Equity firms overwhelmingly announced that they were still open for business and ready to provide investment capital to companies in need despite the opaque outlook. Today we take a closer look at the data to see what impact COVID-19 had on PE deal making in the second quarter.
COVID-19 reduced the number of deals sourced by over 50%
As expected, the median number of deals sourced by PE firms, after years of incremental gains, was down significantly. In speaking with various PE firms, the pandemic's impact on Q2 deal flow began with a dramatic slowdown and nearly complete stop by late April, to a partial rebound by June. When analyzing a basket of generalist PE firms with consistent data integrity over the past five years we found that Q2 2020 deal flow was down over 50% YoY, with a median of 121 deals sourced compared to 265 in Q2 2019.
When and where COVID-19 impacted PE transactions
Overall, Private Equity firms closed 550 deals in Q2 2020, down from 1,083 in Q2 2019. The impact was most heavily felt in April and May, which both experienced over 55% drops YoY in closed deal activity, while June experienced a 35% drop YoY. The impact was roughly consistent across deal sizes too, with $1+ Billion MM EV deals seeing a 41% drop YoY, and $250-$499MM deals leading with a 53% drop YoY. When evaluating by regional location of acquired companies, the Upper Plains and Canada were most heavily affected with a 68% and 62% drop in closed deals, respectively. New England was least impacted, with a 28% drop in closed deal activity.
Which sectors were most heavily affected?
Unsurprisingly, the data shows Hospitality, Transportation, and Materials were hit hard by COVID-19. Activity in the Food sector overall was dragged down by a 70%+ drop in Consumable Food Products and a 60%+ drop in Food related products and services. Media was similarly anchored by a 75%+ drop in Marketing and sales services transactions.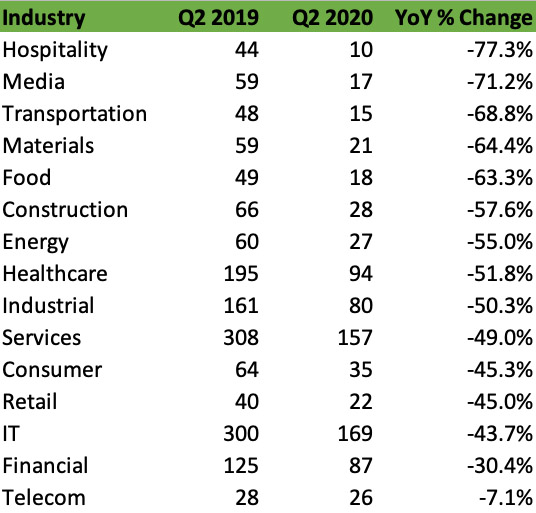 Conversely, Telecom escaped relatively unscathed, with a 7% drop in total deal volume as it was buoyed by a 44% rise in Communication services deals. Similarly, Healthcare – Pharma and health products for patient use, Healthcare – Services to public, Services – Facilities maintenance and landscaping, Consumer – Sports and recreation, Consumer – Misc. products, Industrial – Aerospace and defense, and Media – Online publishing were either flat or experienced growth in YoY deal volumes.
Looking to the future
These days we rarely leave our home and cities, let alone fly to faraway corners of the country to meet with prospects and clients alike. Even so, high quality opportunities are still being sought by capital looking to be put to use. Sellers in this market that are open to taking some chips off the table, and either ceding a minority stake or less control than they would have pre-COVID, have the opportunity to recapitalize their business at a market low and grow it alongside a recovery for a higher valuation down the road. Muted deal sourcing in Q2 points to a persistently lower level of deal activity through the remainder of 2020. But as long as persistent headwinds start to get under control, uncertainty will lessen and some clarity can be brought to forward projections. In turn, that will start to lessen the spread between buyer and seller expectations. Those Private Equity firms that show resourcefulness by innovating and adapting themselves to the new normal will find themselves succeeding not only in spite of the pandemic, but because of it.
Last week's deals today
July 19 – 25, 2020
~83 deals traded

Deal of the week
Buildout, Inc., a Chicago based software developer focusing on marketing and CRM software, was acquired by The Riverside Company. Software Equity Group acted as the sell-side financial advisor and West Monroe Partners acted as the buy-side financial advisor. No terms were provided.
Most active subsectors
IT: Software & services
Financial: Insurance
Financial: Services
Financial: Asset management and advisory
Most active cities
New York
Dallas
Chicago
Houston
San Francisco
Photo by Morning Brew on Unsplash