Spring revival of your contacts 
Have cabin fever? One way to pass the time is to spring clean your contact data. To start, let's review the contacts in your CRM and other records. As you know, there are probably a few investment banks and professionals that are no longer active, or relevant to your strategy. For example, analyzing sell-side intermediaries that were active in 2015, there are 256 sell-side firms that intermediated a deal in 2015, but did not do so in 2016 or in 2017.
That's a significant number of firms to reconcile. Although these firms should not necessarily be removed from your CRM, they do not deserve attention equal to that of more active firms. Interesting to note, of the 256 firms that have not been active since 2015, about 60 were closing deals in years before; namely they weren't "new" in 2015.
Contrary to those inactive intermediaries, there were 533 firms that were active in 2015 and 2016, and 487 that were active in 2015 and 2017. These are the firms that should be prioritized, especially when narrowed down by your investment criteria.
To keep the pipeline full, your data needs to be up-to-date. This is especially true, considering 30+ new sell-side intermediaries were active for the first time in Q1 2018. Mining bad data will only yield bad results – garbage in, garbage out.
What about stale contacts?
Reconciling inactive firms and qualifying newly active firms are just one aspect of spring cleaning, yet another involves professional-level contact data. Professionals often churn, relocate, or move to new roles within a firm. Targeting the right individuals involves having the right data within your CRM. Believe me, SPS is cognizant of the challenges associated with maintaining relevant contact information.
Of the 3,000+ professionals that advised on a deal in 2015, more than 1,400 have not been involved in a transaction since (either at that firm or with a new firm). Removing stale contacts is key for allocating resources towards relevant individuals, particularly considering that nearly 120 sell-side professionals were newly active in Q1 2018. These are the professionals to grow relationships with and prioritize in the future.
Spring cleaning or Spring break?
Perhaps you are lucky enough to escape the winter malaise and head to Florida for Spring Break. It may not be easy to slip away from Space Mountain, but if you can, it's good to know that Florida was the fourth most active state for closed deals in 2017; more than 400 deals traded in the sunshine state.
The top-five Florida cities for deals traded in 2017 were Miami, Tampa, Orlando, Jacksonville, and Boca Raton. The most active sub-sectors include: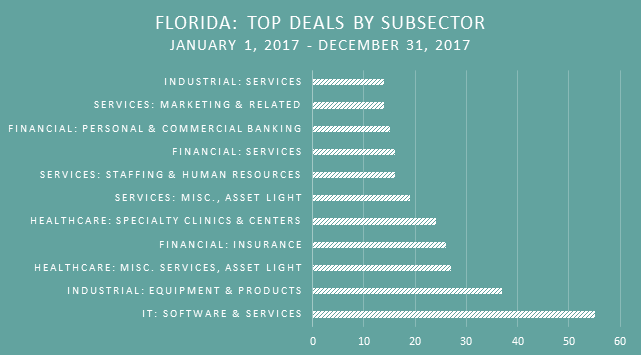 And, if you really want to make this a working holiday, this is a league table of the top sell-side advisors located in Florida *:

Understanding the impact that stale data can have on your sourcing strategy brings us to a broader theme for this month – cleaning your own databases to prioritize the most lucrative relationships. This means refreshing or removing stale data or contacts, maintaining your existing relationships, and planting new seeds for future growth.
Last week's deals today
March 26 – March 30, 2018
~78 deals traded!
Deal of the week
The acquisition of Ontario based, Husky International by Platinum Equity from Berkshire Partners and OMERS Private Equity was completed last week. CIBC, Goldman Sachs, and Robert W. Baird acted as sell-side advisors on the deal.
Most active subsectors
IT: Software & Services
Financial: Services
Industrial: Equipment & Products
Services: Misc., Asset Light
Most active cities
Vancouver
New York
San Francisco
Cleveland
Photo by Lance Asper on Unsplash.