Au revoir, 2017!
Throughout this year, investors have been confronted with a formidable seller's market fueled by record levels of dry powder from 2016, as reported by Preqin, with nearly $500 billion on the sidelines. Moreover, depending on mandates and criteria, funds flush with cash were searching for clever ways to utilize this capital, and manage their deal sourcing strategy.
With the current state of the M&A market in mind, let's review a few figures from 2017, as it currently stands. The year was relatively solid with more than 7,030+ deals closing between January 1st and December 20th. More than 46% of those transactions were sponsored, including new platforms and add-ons.
Top subindustries
Looking at a breakdown of the top 15 subindustries, most deals traded in IT: Software & Services, followed by Industrial: Equipment & Products. The increase in Industrial: Equipment & Products transactions is noteworthy, and is perhaps the result of the current administration's agenda. Also, it is interesting that the Financial: Services subsector made the top three.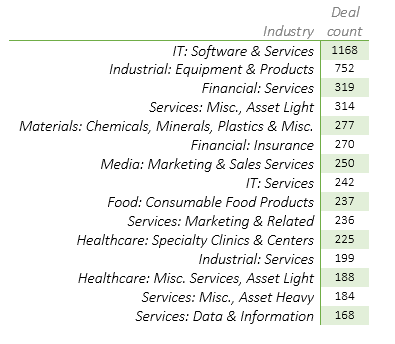 This year witnessed more than 230 mega-deals (i.e. those transactions trading for more than $1B), with most of those transactions closing in February, followed by June and July. This includes a few high-profile deals, such as the acquisition of Yahoo! by Verizon Communications in June.
What are the numbers?
While the Energy: Producers subsector represents a mere 2% of the overall market – and it doesn't appear in the list of the top 15 of active subsectors – it was very active for those deals trading above $250 EV MM. In fact, it was the most active subsector for those deals trading between $500 – $749 EV MM.
Where did the deals close?
Looking at the regional breakdown for the year, most deals traded in the Mid-Atlantic, Pacific West, and Great Lakes. Interesting to note, one of the top subsectors for the Pacific West region was Food: Consumable Food Products (39 deals) and a top subsector for the Great Lakes region was Materials: Chemicals, Minerals, Plastics & misc. (36 deals).
Bearing in mind the current state of the M&A market, there are countless circumstances impacting the success of a fund's performance, yet there are also numerous opportunities for funds to grow and expand in 2018. And, I'll be here, every Thursday in your inbox, to write about it.
It's been fun this year, thanks for joining us. Happy New Year and may the Source be with you.
Last week's deals today
December 11 – December 15, 2017
~103 deals traded!
Deal of the week
Synopsys Inc. completed its acquisition of the Burlington, Massachusetts based Black Duck Software for $548M.
Most active subsectors
IT: Software & Services
Industrial: Equipment & Products
Services: Marketing & Related
Financial: Services
Media: Marketing & Sales Services
Most active states
California
New York
Texas
Florida
Illinois
Photo by Toa Heftiba on Unsplash.