These are unprecedented times we are living in – with a global pandemic, economic crisis, and massive societal disruptions, our very way of life has been uprooted and changed nearly overnight.  Stay at home guidelines, work from home orders, travel advisories, and cancellation or postponement of sports tournaments and events have tested our abilities to adapt and adjust.  As you may have heard, this year's ACG Intergrowth in Las Vegas was one of the many events cancelled due to COVID-19 concerns.  This is a significant loss to the deal making community, but the sourcing show must go on while still practicing social distancing.
Source from home
The situation has provided us with a rare moment of cleared schedules and an abundance of time.  You can use this opportunity to learn to cook, paint, spend quality time with loved ones, but you can also continue sourcing deals from the comfort of your own home with the help of data and the SPS Portal.
Just because ACG Intergrowth has been cancelled, it doesn't mean your sourcing efforts revolving around conference attendance need to be as well. Cross-referencing the ACG Intergrowth attendee list with firms that have recently closed a deal can be a great way to turn this challenge into an opportunity to expand your deal network. Below is an example of ACG Intergrowth attendees at firms that SPS has recorded as closing at least one deal since 2017. Using an analysis such as this allows for you to focus your time on the firms and professionals most relevant to your strategy and is not limited to intermediaries as it can also be applied to PE firms, lenders, and other M&A service providers.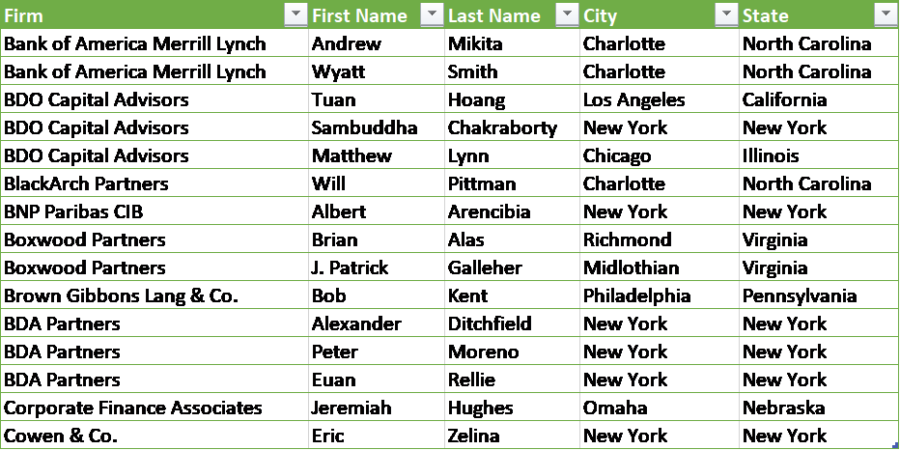 Taking it one step further, the example analysis below looks at the deals closed by the advisors on the Intergrowth attendee list.  Pulling a list of deals closed since 2017 from the Portal and then cross-referencing it with the Intergrowth attendee list provides insight into what deals were done by firms attending. This allows for a deal-focused approach so you can contact the appropriate professionals who are closing relevant deals.

Take this as a valuable opportunity to look closely at your sourcing strategy, networks, and relationships so your firm can come out of quarantine more prepared to source deals than when you went in.
Quarantine thoughts
It has been an adjustment to say the least, but it is during times like these that we learn the most.  The COVID-19 pandemic has brought out the worst in us, with people fighting over toilet paper and essentials, but it has also brought out the best with people coming together as family, neighbors, community, and society.  People are finding innovative ways to practice social distancing, but still keep in touch with family and friends through video chats. Neighbors are helping the elderly with groceries, communities are singing from their balconies to provide momentary escapes, and society is uniting as companies and governments are working to defend the global community.  It is also important to be grateful for the heroes in healthcare risking their lives to save ours, the scientists working to develop testing methods and vaccines, and other essential service providers such as shipping and logistics workers who are driving long ways to get medical supplies to hospitals and food to grocery stores.
We as humans are resilient, and we will bounce back from this.  The economy will recover like it always does, and we will come out of this prepared to deal with what the future may bring.
Last week's deals today
March 16-22, 2020
~72 deals traded

Deal of the week
JC Flowers & Co. recently completed the sale of Amerilife Group, a Clearwater, FL based insurance provider, to Thomas H. Lee Partners. Evercore Partners and Jefferies acted as sell-side intermediary with Debevoise & Plimpton serving as legal counsel.  Credit Suisse and Goldman Sachs were the buy-side financial advisors.
Most active subsectors
IT: Software & services
Industrial: Misc. equipment and products
Financial: Insurance
Materials: Chemicals, minerals, plastics and misc.
Retail: Specialty
Most active cities
Dallas
San Francisco
Marietta
Toronto