Next week signals an unfortunate occasion, the official end of Summer. This also correlates with the end of the calendar year. We're in the home-stretch, my friends.
The amply covered first-half of 2017, demonstrated the depth of the seller's market, which continues to constrict capital investments on behalf of sponsors. Entering the fourth quarter, how can M&A professionals manage this challenging climate?
Resourceful investors have used this market as a chance to outfox the competition with clever approaches to building growth portfolios, as well as deploying capital. One strategy for middle market sponsors to consider is focusing on a specific sector. To do this, you must understand the industry, speak the language, build the relationships. In short, become an expert in all things construction, media, or renewables.
Another approach to consider is to concentrate internally on strengths that can be exploited, and the shortcomings that can be refined. For example, polish off that well-intentioned business development plan and evaluate tactics that can be improved upon.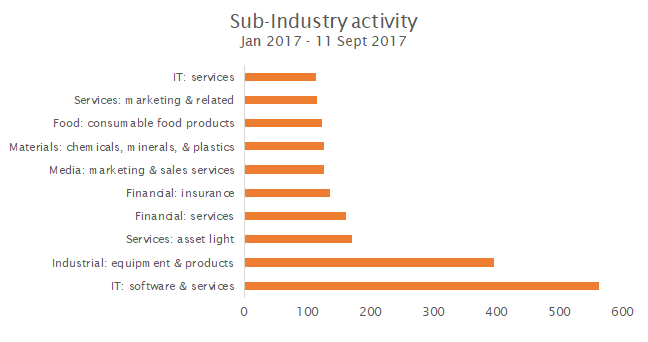 When considering a sector to focus on, review the top performing sectors in the first-half of 2017. The top three are: IT: software & services; Industrial: equipment & products; and Services: asset light. Figure 1 displays the top ten sectors from Jan 2017 – 11 Sept 2017. As evidenced, the market is dominated by technology and services deals; perhaps this is an investment opportunity to grow your portfolio. Or, avoid these sectors and focus on those industries that may not be as active.
To revamp your business development plan and maintain momentum in the home-stretch of 2017, look internally and mine your deal pipeline. A cultivated and well-maintained pipeline exhumes potential opportunities to grow your fund's portfolio. For a variety of reasons, some deals never trade, and this could be your chance at finding the diamond in the rough. The time and resources to craft advisor and proprietary relationships has been invested, now capitalize on those efforts to see which deals are potentially still at large.
These are a few suggestions to cross the 2017 finish line. While the climate may not be ideal for investors, opportunities do exist to move forward and conclude the year on a profitable note.
Photo by Francesco Gallarotti on Unsplash.