The Q1 issue of the Mezzanine Market Perspective is hot off the press!
What's happening up in the mezzanine?
The acute decline in mezzanine activity over the last year is a common theme in SPS' quarterly Mezzanine Market Perspective as of late. In fact, the waning volume of mezzanine transactions is featured in an engaging piece by Arleen Jacobius of Pensions & Investments. The article, published in February, claims that mezzanine "firms face tough competition from other financing strategies." Per Jacobius, while the rate of return is larger for mezzanine structured financings, it also impacts the deal's valuation, which is causing some funds to reconsider this junior debt option.
Mezzanine transactions down by 28% in 2017
Per SPS data, mezzanine transactions have declined by 28% when comparing 2016 (549 deals) to 2017 (394 deals). Moreover, an average of 67 deals were executed each quarter of 2017, compared to 87 per quarter in 2016. What's the reason behind this decline in activity in 2017? Competition. The aggressive seller's market is not only posing challenges for investors looking to source quality deals, as Jacobius contends, it is also impacting the financial structure of transactions, causing subordinated debt and equity styled deals to dwindle.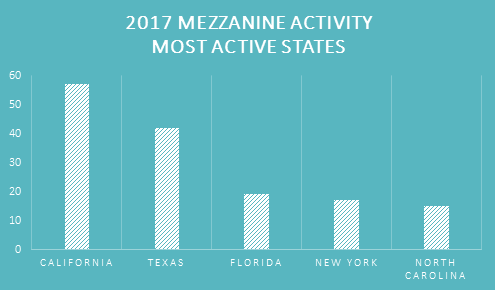 In the fourth quarter of 2017, of the 74 completed mezzanine transactions, 69% involved a sponsor. Of the overall new platform private equity investments for this period, 9.5% of had a mezzanine component, compared to 17.6% of new platform investments in the fourth quarter of 2016.
Where is the mezzanine activity?
Industrial: Equipment & products
With 76 transactions trading that included mezzanine financing, the Industrial: Equipment & products is the most active subsector in 2017. The top mezzanine lenders for this subsector were Fidus Investments, Oxer Capital, Stonehenge Partners, and Tecum Capital Partners. Most deals from this Industrial subsector closed in California, Texas, Michigan, and Florida.
IT: Software & services
The IT: Software & services subsector included 55 deals with mezzanine financing and the top two lenders included Horizon Technology Finance and Fidus Investments. California, New York, Texas, and Ontario closed the most mezzanine backed transactions in this IT space.
Industrial: Services
Five Points Capital and Maranon Capital were among the most active mezzanine lenders for Industrial: Services, which included 22 transactions in 2017 that were supported with subordinated debt and equity. Texas is the most active state for these Industrial-type deals.
Who are the most active sell-side advisors?
In 2017, 52% of mezzanine transactions involved a confirmed sell-side advisor. The most active advisors included Capstone Headwaters, Houlihan Lokey, Lincoln International, Piper Jaffray, Quarton International, Raymond James, and Robert W. Baird (alphabetical order).
Mezzanine Market Perspective
For the foreseeable future, there will be a market for mezzanine investors, as the potential ROI from these financing options is too valuable. However, if the market continues to favor sellers, the falloff in subordinated debt and equity transactions will continue.
Are you interested in a deeper dive into each quarter's mezzanine activity? The SPS Mezzanine Market Perspective is released quarterly and focuses on market trends and transaction in the mezzanine space, including transaction activity on a quarter-by-quarter basis dating back to Q1 2012.
Last week's deals today
April 16 – April 20, 2018
~97 deals traded!
Deal of the week
SS&C Technologies Inc. completed its acquisition of the Kansas City, Missouri based DST Systems last week for $5.4B. DST Systems is a provider of technology based information processing and servicing solutions for financial institutions. Bank of America Merrill Lynch and O'Keeffe & O'Malley, Inc. both acted as sell-side advisors for this transaction.
Most active subsectors
IT: Software & Services
Industrial: Equipment & Products
Services: Misc, Asset Light
Services: Marketing & Related
IT: Services
Most active cities
New York
Los Angeles
San Francisco
Montreal
Atlanta
Photo by rawpixel.com on Unsplash.