New York, November 2, 2017 –  On a beautiful Fall day in New York, the SPS team was busy visiting and delivering emergency prepared food kits to our elderly neighbors in the community. This was part of Citymeals' New York corporate volunteering program. As we split off into groups, each team worked together to navigate the city and bring non-perishable food essentials, as well as the human touch, to our housebound neighbors.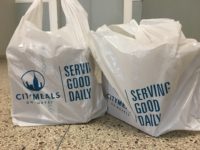 One delighted SPS member exclaimed that this was his favorite volunteering experience so far, "it felt great and it brought SPS and its community together to help those in need within blocks of our office." Another colleague was inspired, "I think I am going to consider this program in my own neighborhood in Queens. I really enjoyed connecting with the elderly."
Citymeals is a 501(c)(3) organization and a registered New York State charity. Citymeals, according to its website, has been serving homebound elderly New Yorkers since 1981 by providing a lifeline of nourishment. For more than 30 years, Citymeals has been assisting the frail and aging in our community with weekend meals, holiday meals, and emergency meal kits.
For more information about Citymeals or to volunteer, visit its website.
About Sutton Place Strategies, LLC Founded in 2009, Sutton Place Strategies is dedicated to helping investors, corporate buyers, lenders and advisors maximize their business development effectiveness. The firm's core service, Deal Origination Analytics™, is the convergence of actionable data with proprietary technology that is designed to quantify the addressable universe of a client's target market, serve as a roadmap to improve deal sourcing, and measure progress on a continual basis.