"OK, Boomer." These 2 words have recently made their way from popular social media channels, all the way to the Supreme Court. Although it takes a dismissive, derisive tone, it inherently describes the frustration that younger generations feel towards the state of issues in the social-economic sphere, and can be seen as their response to the "kids these days" perception. But the phrase is not an attack on all Boomers, and Boomers alone. It is a criticism on the stereotypically 'Boomer' mentality – a phrase to dismiss those with a condescending attitude towards other people's concerns that they may be out of touch with. Housing prices, climate change, student loans, the federal deficit – in a trickle-down economy, these issues are being passed down from one generation to the next. And these are not valuable assets or family heirlooms that you want to pass down.
Kids these days
The Source discussed environmental concerns in a previous post, but what about other industries? Boomers and Millennials are both significant demographics that markets are striving for a piece of action from, but as the generational gap leads to varying consumer trends, industries geared towards one generation can have opposing effects on others. Most notably affected by this generational divide is the housing market. According to the WSJ, Boomers are expected to sell 21 million homes – a quarter of the US for sale housing market – within the next 20 years. However, the article suggests that many of these properties are in places that Millennials are not attracted to, as younger generations gravitate to cities or suburbs near large metropolitan areas. Per SPS data, the most active cities for real estate brokerage and related deals in 2019 were New York and Austin followed by Chicago, some of the largest cities in the US. The table below shows the most active cities for these deals from 2014 to 2019 and suggests that real estate related deals tend to follow the younger generations' migrations to larger cities.

Boomers and Millennials not only differ in where they choose to live, but also who they live with. Millennials are increasingly choosing to have pets rather than kids, and this "humanization" of their animal companions is contributing largely to the success of the $130 billion pet industry, which according to the WSJ, is growing faster than the general economy and expected to reach $200 billion as pet ownership trends increase. Looking at SPS data, the number of consumer pet deals in 2019 have increased 78% since 2015, reaching its highest level in 2018. Within this consumer pet sector, pet food and nutrition deals were the top active, followed by veterinary and pet health related deals. The investors most active in consumer pet and related deals were Dane Creek Capital, Wind Point Partners, and Shore Capital Partners, and top financial advisors in this space were Cascadia Capital followed by Jefferies and Harris Williams.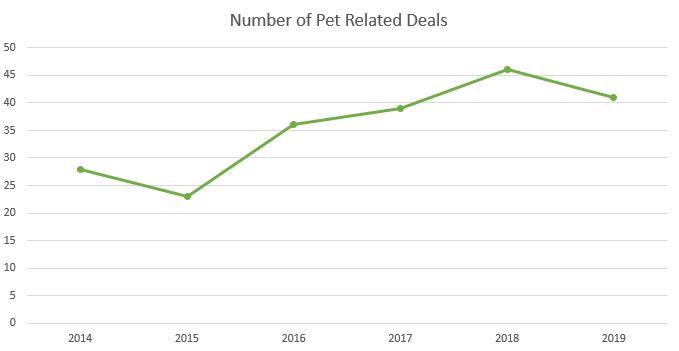 Common ground
Generational differences may lead to polarization in ideas, beliefs, and perceptions. Baby Boomers criticize Millennials and Generation Z for their dependency on technology and blame them for the death of brick and mortar retail. Millennials and Gen Z blame climate change and unaffordability of housing and education on Boomers. Rather than place guilt back and forth and have neither side listen to the other, it should prompt conversation. "OK, Boomer" is not meant to put a further divide in the generational war, but rather, to engage and encourage the audience to participate in the broader discussion of current socioeconomic issues to incite change, so relax. It will all be OK, Boomer.
Last week's deals today
January 12 – 18, 2020
~149 deals traded


Deal of the week
Merck & Co. acquired ArQule Inc., a Burlington, MA based biopharmaceutical company that researches and develops therapeutics for the treatment of cancer and rare diseases, for $2.7 billion. Centerview Partners acted as the sell-side financial advisor with Skadden, Arps, Slate, Meagher & Flom serving as sell-side legal counsel for this transaction. Bank of America Merrill Lynch was the financial advisor and Baker Botts and Covington & Burling were the legal advisors to Merck.
Most active subsectors
IT: Software & services
Industrial: Misc. equipment and products
Media: Marketing and sales services
Services: Marketing and related
Industrial: Services
Healthcare: Specialty Clinics and centers
Most active cities
New York
San Francisco
Chicago
Atlanta
Nashville
San Diego
Photo by Eugene Zhyvchik on Unsplash