To continue in its quest to provide deal sourcing intelligence that streamlines and improves M&A business development, SPS deployed its newest feature on the SPS Portal this week: Real-Time closed deal data.
What is Real-Time data and what does it mean for M&A business development and deal sourcing?
The very moment the SPS Research Team confirms a closed deal, including both new intermediaries and professionals involved in the transaction, the deal and its corresponding data is available via the SPS Portal and mobile app. Business development professionals will now be able to ascertain which intermediaries (or M&A participant) and professionals are active in real-time.
Let's do the numbers…
Reviewing all deals that closed in October at the time of my writing (October 1, 2017 – October 30, 2017 – let's just call it the Halloween writer's lag). There were approximately 530 transactions that traded during this period. The most active subsector, with nearly 20% of deals, traded in IT: Software & services. The volume of the second (Industrial: Equipment and Products) and third (Financial: Services) most active subsectors does not even come close to the IT: Software & services subsector.
Most deals during this 30-day period closed in California, Texas, Canada, and New York. Although, slicing this data by city, New York was the most active, followed closely by Houston, San Francisco, and Austin.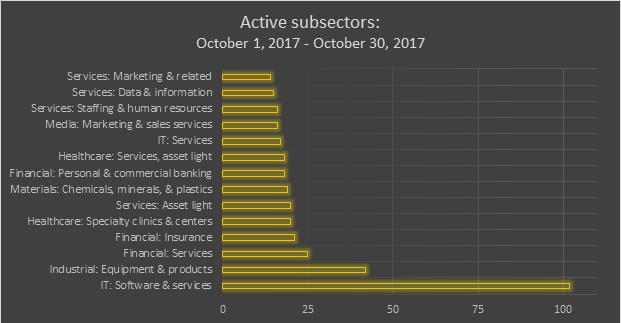 To make this data more actionable, further updates were made to the dashboard on the SPS Portal. Watch this clip, which provides a quick view of the newest features available.
For illustration, right from the dashboard, users can now query which time-period of data they would like to view. Say you would like to know what happened in Q1 of 2017. Easy! Toggle the Period timeline on the right-hand side to that Q1 period and all the datasets on the dashboard will update. Now, the user will easily be able to determine what new intermediaries and professionals were active in that period. Users will also be able to establish which deal they might have missed and where their Market Coverage Analysis stood during that time.
There are many suitable practices for accessing and employing SPS Real-Time data. If you are interested in learning more, we're hosting a webinar in Mid-November to discuss the launch of the SPS Real-Time data. Contact us if you would like to sign up!
Last Week's Deals Today
Monday, October 23 – Friday, October 27
Deal of the week:
The acquisition of American Casino & Entertainment Properties LLC by Golden Gaming LLC closed on October 23, 2017 for $850 Million. This deal will help solidify Golden Gaming's presence in Nevada.
Most active subsectors:
IT: Software & Services
Industrial: Equipment & Products
Healthcare: Clinical Trial & Drug Development
Financial: Insurance
Financial: Services
Photo by Harry Sandhu on Unsplash.