Renewable energy transactions were on a steady climb beginning in January 2010 and peaking in the first-half of 2015. Unfortunately, activity stalled over the next eight quarters (July 2015 – June 2017) with a 24% decline in 2016 alone. Moreover, the drop continues in the first-half of 2017. Comparing the first-half of 2016 with the first-half of 2017, there was a 36% decline in renewable activity.
Much of the renewable deals in this seven and half year period traded in Canada, followed by Pacific West and South Central. Although, reviewing the first-half of 2017, 31% closed in the Southwest, which is on par with the first-half of 2016. Finally, between 2010 and 2017, there were only 57 active sell-side intermediaries, with a mere 44% closing two or more deals.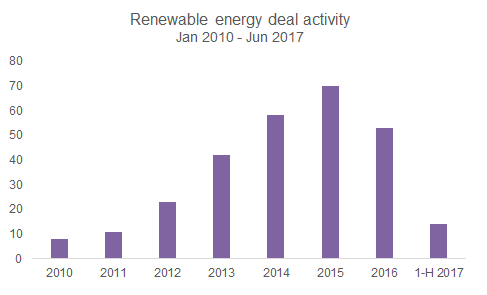 Is there any positive news for the industry?
The M&A economy for renewable energy may be sluggish, but the overall renewable market is abuzz. This is particularly true with news from France that it will discontinue the sale of gasoline and diesel cars by 2040. Additionally, Volvo announced that it will terminate gas-only vehicle production by 2019. Lately, countless countries and businesses have publicized similar commitments.
Another encouraging story comes from Texas. In the wake of Hurricane Harvey there was a victory for wind farms, as reported by The Wall Street Journal. The crux of the story: Papalote Creek Wind Farm, located outside Corpus Christi, was operational and producing power within days of Harvey hitting the region.
Wind turbines are built with deterrent measures in mind. Justin Sharp chairs the American Meteorological Society's renewable-energy committee. Sharp notes in the article, "turbines are designed to shut down and feather their blades when the wind gets too strong." Although, Sharp does caution, if winds exceed 140 MPH, there's no saying what could happen to the blades.
The advancement in turbine technology to withstand a category 4 hurricane like Harvey, and return to operational use within days is fantastic news for the industry. Especially as it looks to expand and power the future energy economy. Perchance more news-items like this will help boost M&A activity for the industry.
Photo by Arda Çetin on Unsplash.