In an interview conducted by Intralinks, Paul Aversano, managing director with Alvarez & Marsal, discusses the many factors impacting M&A and private equity investments. Aversano believes that valuations will remain high and contends that deals need to get done, however, he does conclude that while there are many threats and challenges in the marketplace (geopolitical, interest rates, crowded marketplace, etc.), there are many opportunities available, particularly within the technology sector. For more, read the full interview.
The first quarter of 2019
Not to outright confirm Aversano's point, but IT: Software & services is the most active sector in the first quarter of 2019 with 15.5% of deals closing in this space. Technology transactions continue to increase, and if you haven't already it may be time to consider this sector as a focus in your portfolio, or at the very least, invest in those companies that have a digital transformation strategy. Also, it may be worth building relationships with those intermediaries that have experience with these types of targets.
Q1 2019: Top five sectors for intermediated transactions
IT: Software & services (133 deals)
Financial: Insurance (41 deals)
Materials: Chemicals, minerals, & plastics (38 deals)
Services: Data & information (36 deals)
Financial: Services (33 deals)
The first quarter of 2019 saw a 12% decline in overall deal activity from Q1 2018 to Q1 2019. Reviewing sell-side advisor activity, 18 firms completed 10 or more deals in the quarter. On the high end, Houlihan Lokey and Lincoln International each completed 17 deals for the quarter, March, Berry & Company advised on 20 transactions, and the most active sell-side advisor – Raymond James – completed 35 deals for the quarter. For Raymond James, the IT sector is the largest share of investments with 24% of deals closing in this space.
Relationship building for long-term profitability
Raymond James is consistently at or near the top of any intermediary league table. Yet, if you are looking to build out relationships with those firms that are shopping quieter, non-auctioned deals, it may surprise you to know that 38% of the sell-side advisors for the first quarter completed 3 deals or less, with 65% of those firms completing one deal. There is an opportunity to build early, long-term relationships with several of these advisors.
As you consider where to build relationships, particularly as you navigate this crowded and competitive market, relationships matter on both ends of the spectrum. Valuations continue to skyrocket and dry powder waiting to be deployed remains at an all-time high. Furthermore, competition is stemming from both home and abroad, including sovereign wealth funds, foreign investors (as we noted last week), other alternative investors, like Hedge Funds, looking to take advantage of private equity's higher yields, as well as the standard competition of corporate buyers and peer equity investors. It is time to implement creative deal sourcing strategies that include working with both bulge-bracket advisors and boutique intermediaries using real-world evidence to drive actionable results. The strategy that you elect now will impact your ability to grow your portfolio, as well as potentially sell these assets in the future for a profit. It all starts with the right relationship with the right advisor.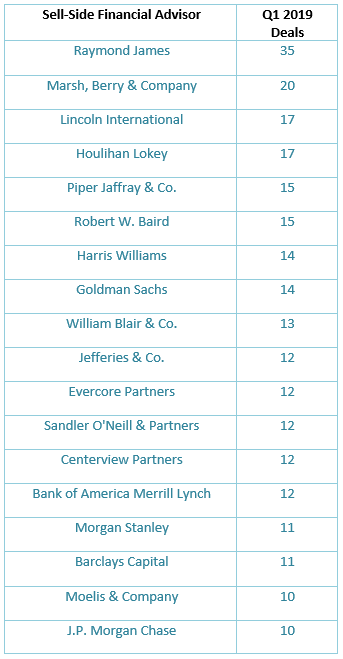 Last week's deals today
May 13 – May 17 , 2019
~93 deals traded


Deal of the week
SJL Partners completed its acquisition of Momentive Performance Materials. Based in Waterford, New York, the company is a producer of silicone and quartz. Sell-side financial support was provided by both Goldman Sachs and Moelis & Company. While no terms were disclosed, the deal was estimated to be valued at $3.1 billion, per the Albany Business Review.
Most active subsectors
IT: Software & services
Media: Marketing & sales services
Industrial: Misc. equipment & products
Services: Education
IT: FinTech
Industrial: Services
Most active cities
Houston
New York
Durham
San Francisco
Photo by William Iven on Unsplash