M&A in space?
NASA announced recently that it has postponed its plan to use private spacecraft to transport astronauts into orbit, per the Wall Street Journal. The plan, originally scheduled for Spring of 2017, is to use both Boeing and SpaceX spacecrafts. However, intricate regulations and safety concerns are holding up the process, which is currently delayed till – at the very least – 2019. The issues confronting both NASA and the private entities are thought-provoking, particularly when one ponders the potential opportunities for commercial space flight, and this overall industry.
What about M&A transportation deals on earth?
Perusing Deloitte's survey, Traveling at the speed of knowledge: Exploring operation and profit benefits of deploying the Internet of Things, it would seem that this industry, chiefly airlines, have a great deal of growth potential. Airlines are actively considering how to use the IoT to maximize cost and expand the consumer's experience. According to Deloitte, cost drives most decisions for an airline with 37% of respondents claiming that they "have begun to explore and implement IoT improvements as a way to confront rising cost" (Deloitte, 2017).
Considering all the various supply chains airlines touch, operations on the tarmac, employee services and tools, or services for passengers in-flight, particularly given the access to wireless networks, the prospect for deals in this industry should be robust (Deloitte, 2017).
Growth potential for the Transportation sector should be significant
Although, if we look historically at the last six years, Transportation transactions declined by 15% in 2017 from its highs in 2015. Yet, over the four-year-period from 2012 to 2015, deal activity increased by 30%. The drop in 2016 and the leveling of activity in 2017 indicates that we may not see a rebound of growth in this sector in 2018.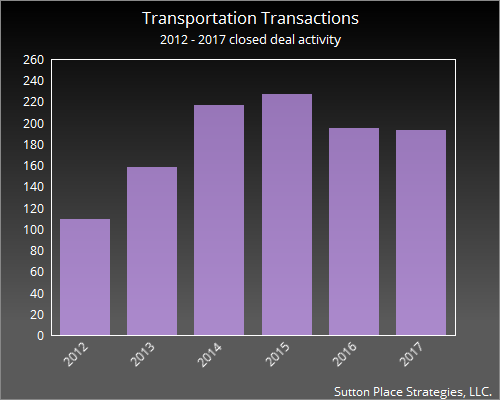 During the 2017 period, 59% of Transportation deals were in the Transportation & Logistics Services subsector, this is followed by Services (32%) and the Air, Rail, & Transit (9%) subsectors respectively.
Transportation: Transportation & Logistics Services
The principal subsector of the Transportation industry, Transportation & Logistics Services closed 114 transactions overall in 2017. The subsector saw 35 unique active intermediaries.
91% of overall Transportation & Logistics Services transactions closed in the sub-$250 EV MM range, with one deal closing north of $1B in EV. Swift Transportations acquired the Phoenix based Knight Transportation Inc. in September of last year.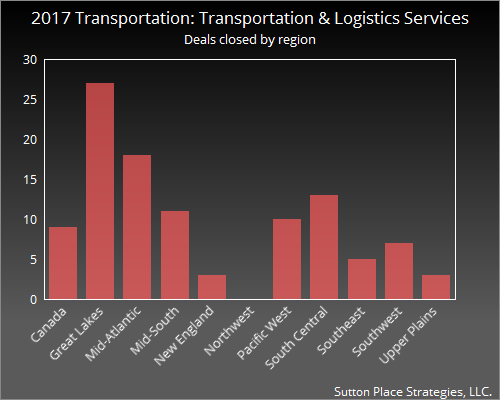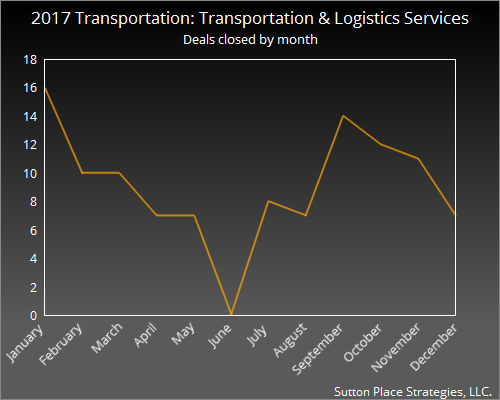 Transportation:Services
The second-largest subsector is Transportation: Services, which closed 61 deals overall. This subsector was advised by 18 unique intermediaries. Not shocking, 87% of overall Services deals closed in the sub-$250 EV MM range. However, this sector closed four transactions greater than $1B in EV in 2017, which includes the financing of Lyft Inc. in October of 2017 by CapitalG (Google Financing).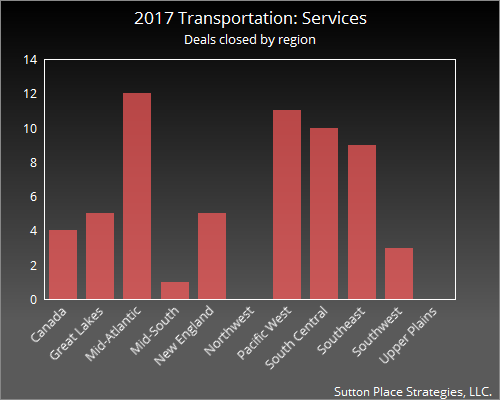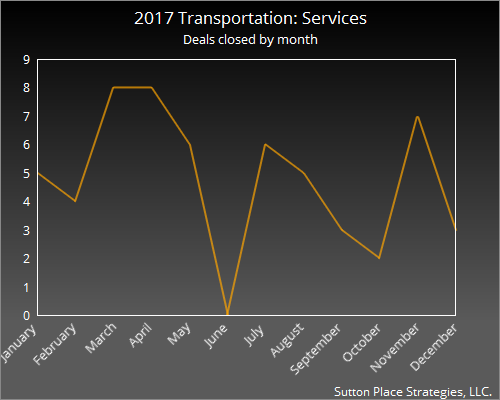 Transportation: Air, Rail, & Transit
Air, Rail, & Transit had 18 transactions trade overall with most deals trading in Canada and the Pacific West. There were 5 unique intermediaries that advised on these transactions in 2017. Again, most deals closed in the sub $250 EV MM range, yet there were two transactions greater than $1B in EV, including Grupo Mexico buyout of Florida East Coast Railway Holdings Corp. in July of 2017.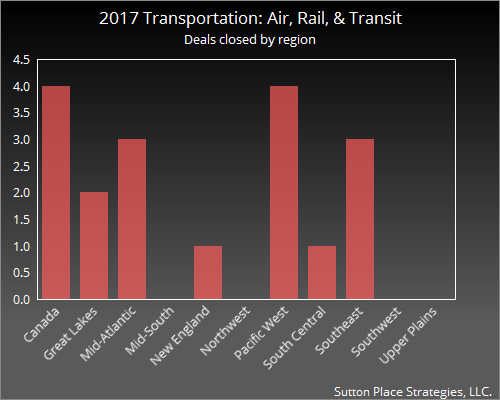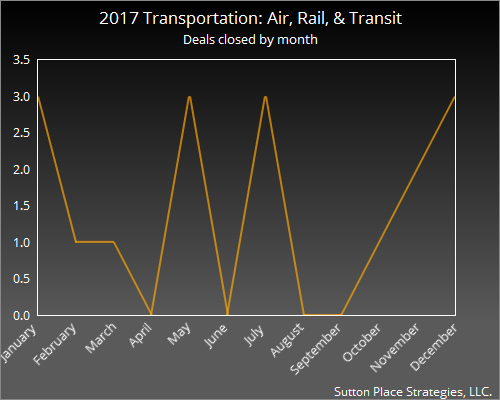 The IoT offers plenty of opportunities for the Transportation industry to grow over the next few years. From the rise of autonomous vehicles, to enhancing a flyer's experience both on the ground and in-flight, to the incredible prospect of commercial spaceflight – the next few years could be a boom for Transportation. Perhaps this is the calm before the storm.
Last week's deals today
January 8 – January 12, 2018
~85 deals traded!
Deal of the week
Through Providence Equity Partners portfolio company, GlobalTranz Enterprises, Inc., it completed its acquisition of El Paso based AJR Transportation.
Most active subsectors
IT: Software & Services
Industrial: Equipment & Products
Media: Marketing & Sales Services
Financial: Insurance
Financial: Services
Services: Marketing & Related
Most active cities
San Francisco
Minneapolis
Irvine
Austin
New York
Boston
Dallas
Los Angeles