Focus your efforts on sourcing deals, not gathering data or running queries
Intelligent integration, automation, and application were the exclusive focus of the Source throughout the first quarter of this year. More specifically, how these intelligent components relate and the impact it has on the entire community of M&A professionals.
Without further ado, I'm thrilled to announce that SPS is future-ready with the advent of SPS Alerts for actionable deal sourcing intelligence. These Alerts, which combine the power of SPS research, tailored to the subscriber's investment criteria, deliver real-time, actionable data.
Be the first to hear about deals closing in your target, with information on the intermediaries, professionals, and how to contact them.
Newly active firms and professionals that closed a deal in your target for the first time? Be the first to call, say congratulations, and ask about what they are working on right now.
Broken deal alerts: Notify you when high-priority deals from your internal pipeline didn't trade.
Last week's deals in real-time
Putting this in perspective, each week I detail the prior week's closed deal activity in the footer of the Source. Applying SPS Alerts to your sourcing strategy will programmatically distribute this information (as well as other types of data) to your mailbox or via push notification to your mobile device.
These alerts are customized for what matters most to your investment strategy; SPS is focused on eliminating noise, not adding commotion. Last week, ~95 deals traded with two of the largest transactions being sponsor exits trading to corporate investors:
The Dublin based, Ion Investment Group acquired Openlink Financial from equity firm, Hellman & Friedman. Centerview Partners acted as the sell-side advisors on the transaction.
The Paris based, Altran SA acquisition of Aricent, Inc. from equity firm, Kohlberg Kravis Roberts. JP Morgan acted as the sell-side advisor on this transaction.
The new firms and professionals of Q1 2018
Immediate access to closed deal information will keep you well-informed, but what about the professionals and firms involved in those transactions? That information is included, as well. Keeping the data-lag caveat in mind, there were approximately 117 new professionals advising on a deal for the first time since the beginning of 2018.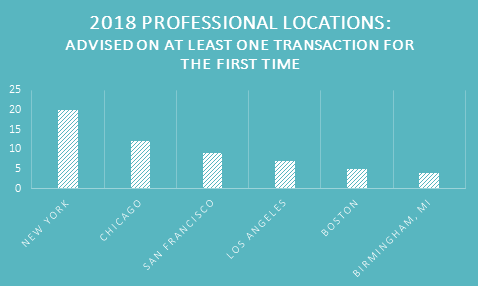 Moreover, this year 26 new, sell-side intermediary firms advised on 30 transactions for the first time. The top five locations for these new firms are Boston, Dallas, New York, San Diego, and San Francisco. The highest volume of deals traded in the following subsectors:
IT: Software & Services (10)
Industrial: Equipment & Products (4)
Healthcare: Pharma & Health Products for Patient use (2)
Food: Consumable Food Products (2)
Services: Marketing & Related (2)
Services: Education (2)
The most active states for these 30 deals are California (8), Texas (3), and Wisconsin (3). Moreover, 19 of these deals, that were advised by a brand-new firm, traded to an equity investor.
Waiting till the end of the quarter to aggregate this information or logging into a system to query this data is antiquated in our mobile-first lifestyle. Instantaneous access will give you an edge in this competitive market; be among the first to call and congratulate a professional and find out what they're currently working on.
Robots vs. Cobots
SPS cannot overstate the importance of Intelligence in our future, and more importantly in deal sourcing. If robots equate job-loss in your mind, SPS isn't doing its job well. Economist Edward L. Glasser said it best, "…every underemployed American represents a failure of entrepreneurial imagination." The future involves intelligent uses of technology comingled with human social and cognitive ability – are you ready?
For more on robots, and what the future may hold for deal sourcing and origination, check out the thought-piece that Nadim and I co-authored for PE Hub this month.
Last week's deals today
March 19 – March 23, 2018
~95 deals traded!
Deal of the week
Guggenheim Partners acted as the sell-side advisor for the buyout of Oklahoma based Carlisle FoodService Products by The Jordan Company for $750 M.
Most active subsectors
IT: Software & Services
Industrial: Equipment & Products
IT: Services
Photo by rawpixel.com on Unsplash.