U.S. retail sales for July increased by 0.6%
This week, it was widely reported that the U.S. Department of Commerce announced U.S. retail sales for July increased by 0.6% – the largest gain since December 2016 – and the June numbers were revised to show an uptick of 0.3 percent.
While consumer retail sales may have the potential to advance overall third quarter growth (Reuters), the developments in M&A activity for Retail transactions traded since 2012 tend to augment a contrasting perspective.
So, what about M&A activity?
The volume of Retail deals from 2012 – 2015 was trending up; however, in 2016, there was a considerable drop to pre-2014 levels with a 13% decline over the two-year period. Moreover, the first-half of 2017 is down slightly from the first-half of 2014, 2015, and 2016, with a mere 119 Retail transactions trading. While 1-H 2017 may not have closed a record number of deals, did it do the next best thing by closing one of the "the most disruptive deal in ages," per Jim Cramer?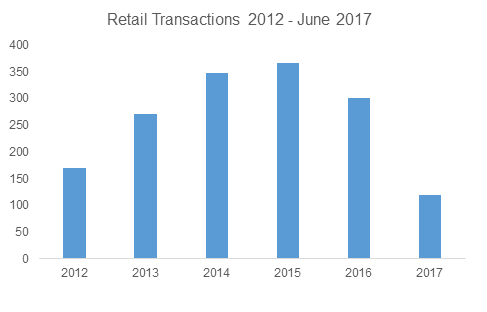 Over the extensive twenty-two quarter period (Jan 12 – Jun 17), 64% of Retail transactions were buyouts and 25% were add-ons, the balance were minority investments. The most active metropolitan areas for deals in this period were New York (5.2%), Chicago (1.82%) and Dallas (1.5%).
The trend continues as we evaluate the first-half of 2017, Online transactions accounted for 18% of Retail activity.
Breaking the Retail numbers down further, since January of 2012, 56% of Retail deals fell into the Specialty sub-sector, followed by Online and Apparel & Accessories. The trend continues as we evaluate the first-half of 2017, Specialty deals accounted for 51% of activity and Online for 18 percent. Although not too surprising, 14% of activity came from Services, as opposed to Apparel & Accessories.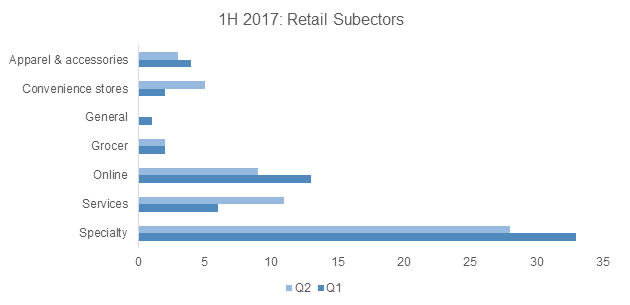 As market-watchers bask in the growth glory of U.S. retail sales, proceed with caution when observing other components of the Retail economy. As we know, Retail has been adjusting to the dominance of an online and mobile-first ecosystem. And, we have scarcely mentioned the amazonian elephant in the room. The July 2017 numbers are still below previous July periods; although, the second-half of 2017 is still young. Begging the question, what does the growth number really mean?
Photo by Clem Onojeghuo on Unsplash.