The McKinsey Global Private Markets Review 2018, entitled The rise and rise of private markets, offers an expansive assessment of the current climate for private market transactions. Per McKinsey, fundraising for private markets topped $748 billion, rising nearly 4% in 2017. As more firms elect private equity as an asset class in their continuous quest to seek alpha, the crowded marketplace and the amount of committed capital from LPs, is one cause for the record high EBITDA multiples (surpassing 10X) for available deals. McKinsey takes a deep dive in its examination, providing both opportunities and considerations to regard, particularly when contemplating which industries and sectors to deploy capital.
As firms consider which sectors are right for their strategy, a sector profile can provide deep analytics that point an investor or deal originator to new types of business to invest in, or intermediaries to work with. In 2018, the top five sectors were IT: Software & services; Industrial: Equipment & products; Services: Marketing & related; Financial: Services; Services: Misc., asset light.
The IT: Software & services sector is the consistent top performer and, per McKinsey, deal activity for IT is increasing YOY (more so than most other sectors that are in decline) since "more companies appreciated the step-change in performance afforded by digital transformations." Below is a profile of the highly active sector.
On this harvest moon
The top five most active North American cities in 2018 for IT: Software & services include: New York (75); San Francisco (70); Austin (31); Seattle (30); and Toronto (28).
Comparing 2017 with 2018, there was a 14% increase YOY in deal activity, with 49% of 2018 transactions involving an equity investor. Moreover, of those sponsored transactions, 13% of deals traded to a peer-equity investor. Breaking this out even further, below are the top most active private equity investors that completed ten or more deals in this sector in 2018.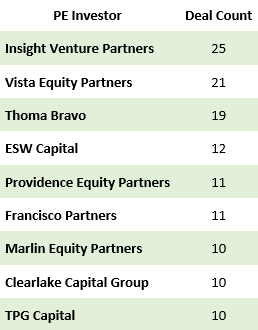 Investing in this sector may prove challenging as its investors are active and its deals are lucrative. Moreover, this sector has a lot of capital flowing from corporate investors, thus making it even more competitive. Below is a breakdown of the most active sell-side intermediaries that are advising on IT: Software & services transactions, with deal counts for 2018.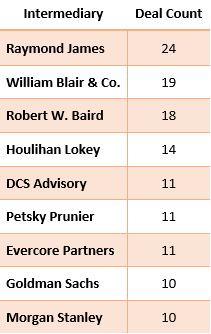 The IT: Software & services had more than 30 deals trading for more than a billion dollars in 2018, yet only a third of these deals traded to a private equity investor. Many of these transactions were household names including GitHub, Marketo, CA Technologies, Intralinks, Ring, among others, that ultimately sold to a strategic investor. There are many reasons to consider investing in the software and services subsector, including the continued uptick in deal activity year-over-year compared with other industries. There are certainly more deals for the picking!
In the abovementioned McKinsey piece, there is a detailed section on the importance of deal sourcing and tactics being improved and those being tested in the industry. Naturally, the aptly named "Next-gen sourcing" section caught our eye. Coupling analytics with deal sourcing can help investors to zero in on certain targets that are attractive to their portfolio and overall strategy. Whether or not it involves sectors that the firm is accustomed to investing resources and capital towards. Add-ons can take place in various sectors, therefore applying actionable data to a strategy can point a firm to the key players in an unknown market that can help facilitate the acquisition of a complementary add-on or target to its portfolio. In short, a data-driven approach is key to quality deal sourcing.
Last week's deals today
March 18 – March 22, 2019
~77 deals traded
Deal of the week
Gryphon Investors completed its acquisition of the Baltimore, MD based
Learn It Systems LLC
, purchased from fellow sponsor, LLR Partners. Both Harris Williams and Berkery Noyes & Co., acted as sell-side financial advisors.
Learn It Systems
provides academic and special education programs for public, private, and charter schools in the United States. Referring to our earlier example, LLR is Sponsor A, and Gryphon Investors, Sponsor B.
Most active subsectors
IT: Software & services
Media: Marketing & sales services
Industrial: Services
Construction: Services
Healthcare: Specialty clinics and centers
Most active cities
New York
San Francisco
Atlanta
Los Angeles
Minneapolis
Photo by Alex Knight on Unsplash