Cannabis is now mainstream. The once illicit drug is finding its way into many different sectors, as more and more states legalize and remove the barriers of entry into the market. Earlier this month, Business Insider spoke with a few cannabis focused private equity investors, including Altitude Investment Management, to learn more about the industry and what the latest investment trends are in this flourishing market.
Currently, the cannabis industry touches not only consumer and food sectors, but also Healthcare, Industrials, Media, Services, IT, Retail, Transportation, and others. SPS market data includes Cannabis deals dating back to 2012 and in that time frame, SPS has recorded nearly 120 Cannabis related transactions. While the market truly heats up in the latter part of 2017, let's take a look at the market growth for Cannabis transactions in the last seven and half years.
Industry profile: The growth of Cannabis
The Cannabis sector has grown tremendously over the years. In fact, there was a 350% increase from the deals closed in Q1 2018 to Q1 2019. Moreover, in all of 2018, 40 transactions closed, yet 2019 year-to-date has seen 38 deals trade in less than two quarters. There is tremendous opportunity for an equity investor interested in this peculiar industry. The industry touches many sectors, including Healthcare: Pharma & health products for patient use which dominates the market with 70% of deals trading.
Advisors and transaction size
Per SPS data, 93% of Cannabis transactions have traded in the sub $250 MM space; however, there were two transactions that traded for more than $1 billion. This includes Aurora Cannabis' acquisition of MedReleaf Corp, an Ontario based producer of cannabis-based pharmaceutical products. The prolific Canaccord Genuity acted as the sell-side advisor for this transaction.
Below is a sell-side league table of the top advisors in the Cannabis space. There are an additional 16 advisors that each completed one transaction in this market.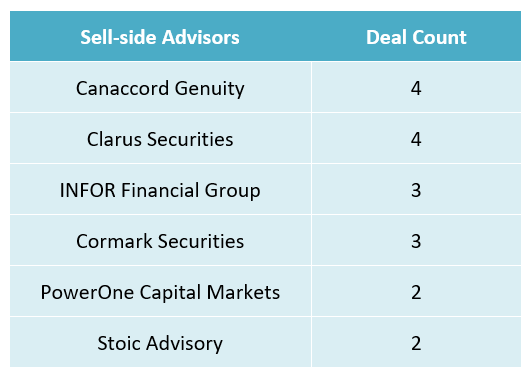 Regions & active investors
Canada dominates the market with 30% of all Cannabis deals trading there. The Southwestern region of the US comprises 25% of transactions, followed by 15% in the Pacific West. To date, 20% of deals have traded to an equity investor, with the vast majority closing to a strategic acquirer. The most active equity investors include: Mentor Capital (3 deals); Ianthus Capital Management (2 deals); Compass Diversified Holdings (2 deals); and Privateer Holdings (2 deals). The remaining 22 firms completed 1 transaction since 2012.
To date, there has only been one transaction (in 2016) where a Private Equity investor sold to a peer equity investor.
The future of the industry
The Cannabis industry will continue to grow, evolve, and attract new investors, as changes in legislation and FDA guidelines permit, as well as new firms entering the market navigate the complex, yet lucrative waters.
Not too long ago, edibles were the latest trend for new business and product enhancements, but now CBD is hopeful for new food and beverage products, as well as for medical research for patients with epilepsy and Alzheimer's. If this is an industry that your firm is considering pursuing, the SPS Portal can provide you with real-time, actionable data that can point you to the new relationships that you need to build to advance in this market.
Last week's deals today
May 20 – May 24, 2019
~92 deals traded


Deal of the week
MassMutual's OppenheimerFunds was acquired by Invesco this week. OppenheimerFunds is a New York based investment management firm with $246 billion in AUM. This transaction brings Invesco's total AUM to around $1.2 trillion. Lazard acted as the sell-side advisor on this deal.
Most active subsectors
IT: Software & services
Financial: Services
Healthcare: Specialty clinics & centers
Services: Misc., asset light
Media: Marketing & sales services
Most active cities
New York
San Francisco
Toronto
Phoenix
Photo by Kimzy Nanney on Unsplash