In a post last week on CNBC, Ari Levy discussed private equity's pivot to focus on growing targets, as opposed to making profits through cost-cutting metrics. Many of these private equity investors are actively focusing on cloud-based companies, in particular marketing automation platforms and other cloud-based services firms. In 2018, Vista was able to sell Marketo to Adobe for $4.75 billion, after Vista bought it only two years prior for $1.8 billion, by continually investing in the growth of the business and improving Marketo's profit margins. According to Levy, "Investors still need to see some IPOs and more high-dollar sales before determining if the model works." Yet, the message is clear, consider growing business for the longer-term.
Services is by far the most active M&A industry. In 2018, there were more than 2,160 Services deals that closed, which represents more than a quarter of the entire M&A market (26.5% of deals closing). The second most active industry is IT, with nearly 1,935 deals trading in the sector. Finally, the third most active sector is Healthcare with 15% of the market (1,253 deals).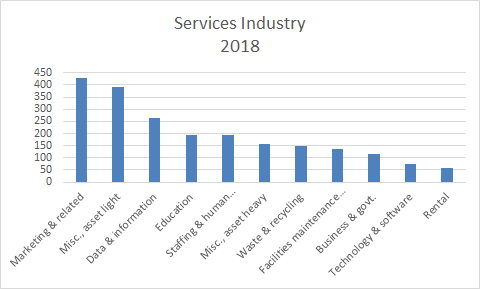 Given investors approach to target and grow cloud-based services firms, let's dig into the most active Services subsector – Marketing & related – which accounts for more than 20% of all Services transactions. Marketing & related services transactions grew dramatically with a 56% increase YOY from 2017 to 2018. The top cities for Marketing & related deals are New York, Chicago, San Francisco, Seattle, and San Diego.
Of the Marketing & related deals that traded, 41% included a private equity firm and 15% of those deals were purchased from a peer private equity investor. The most prolific sell-side advisor, closing 16 deals in 2018, is Petsky Prunier, followed by Lincoln International, Moelis & Company, Evercore Partners, and the Jordan Edmiston Group (aka JEGI), all of which completed 6 Marketing & related transactions in 2018. Furthermore, there were 8 transactions in this sub-sector that traded for more than a billion dollars.
The Marketing & related services sector has grown over the last year, and is projected to continue its growth in 2019. As mentioned above, this could be the result of investors looking to grow firms with high profitability and low-overhead cost, such as many cloud-based firms. However, to be more prudent, how do you plan to source deals in the next big growth sector? More specifically, how do you intend to replicate Vista's Marketo growth investment model?
For tips on which sectors are trending and evaluating which sectors to focus your business development resources on, contact SPS. We know the data, and can help you source more quality, profitable deals.
Last week's deals today
February 11 – February 15, 2019
101 Deals traded
Deal of the week
ESL Investments Inc. completed its acquisition of the once catalog and retail industry-giant
Sears Holdings
for $5.2 billion. Sell-side advisors included Jones Lang LaSalle, Lazard and M-III Partners. Per the AP, "the new Sears will comprise 223 Sears and 202 Kmart stores, along with prominent brands and operating businesses, including Kenmore, DieHard, Craftsman, Sears Home Services, Sears Auto Centers and Innovel."
Most active subsectors
IT: Software & services
Industrial: Equipment & products
Financial: Services
Most active cities
New York
San Francisco
Houston
Toronto
Photo by Kate Trysh on Unsplash