Much has been made over the efficacy of disruptive tech advancements that are transforming our daily lives. Put aside the despotic Hollywood ending and consider that many of these advancements in technologies are not a question of when do the robots arrive, but of how are these technologies impacting your business today?
What type of deals are trading in the Intelligent Automation space?
Since 2014, deal volume in the Intelligent Automation (IA) space has been astonishingly consistent; notwithstanding the ~5% decline in 2016, activity for 2014, 2015, and 2017 is almost identical. Looking at more recent deals, in the first month of 2018, 5% of overall transactions that closed were in the IA space. These deals cover an array of sectors: IT, Media, Energy, Transportation, Financial, Healthcare, Services, and Consumer – to name a few.
A few notable transactions from 2018:
The New York based, Virtu BondPoint was acquired by ICE (Intercontinental Exchange, Inc.) in early January. Virtu BondPoint provides centralized liquidity and automated trade execution services for fixed income securities. The sell-side advisor for this transaction was Jefferies & Co.
Biotage AB bought-out the New Hampshire based, Horizon Technology Inc. ("Horizon") for $17.9M. Horizon is a manufacturer of automated sample preparation systems for the analysis of organic compounds in aqueous samples. EC Mergers & Acquisitions advised on this transaction.
Not all robots will take our jobs, some will be useful
In 2017, approximately 185 transactions traded in the IA space. Each of these transactions represent how the "future" is happening now. Of course, not every business or product that incorporates IA will be as revolutionary as its disruptive predecessors, such as the automobile or smartphone. Yet, these companies and products could be positively enhancing your current work, perchance saving you time and resources in deal sourcing and business development.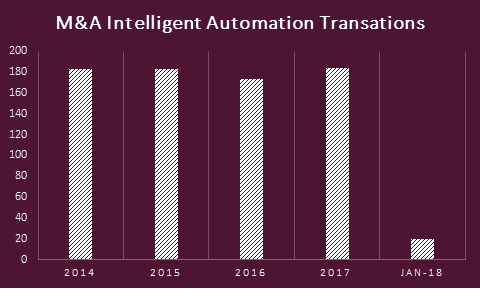 Deal Sourcing vs. Intelligent Automation
Last month, I explained the benefits of intelligently integrating various sources of data. Once integration is mastered, the next logical step is to make that data useful and actionable. Enter Intelligent Automation.
To extract the value from this integrated data, SPS is developing its own IA with the launch of its notification systems in the months ahead.
These programmatic notifications are designed to save users time and resources to distill the information that is valuable to their deal sourcing strategy. Would you like a weekly recap of all the transactions that traded in your size range and sector? Or, let's start the week off strong on Monday with a recap of all the new intermediaries that closed a deal for the first time in the prior week. Dig deeper into these notifications to see if these professionals are worth a call to congratulate them, and see what they are working on next.
Automating factions of your deal sourcing process are not robots taking over your work, it's working more effectively to manage your time and streamline your deal sourcing process. Focus your attention on the parts of deal sourcing that can't be automated and require that human-touch.
Last week's deals today
January 22 – January 26, 2018
~98 deals traded!
Deal of the week
Sunoco LP completed its divestiture of its 1,030 Sunoco convenience stores to 7-Eleven Inc. Per the press release, this is the largest acquisition in 7‑Eleven's history.
Most active subsectors
IT: Software & Services
Financial: Services
Industrial: Equipment & Products
Services: Misc., Asset Light
Services: Data & Information
Most active cities
New York
Chicago
San Diego
Kirkland, WA
Fort Worth
Greenville
Photo by Dominik Scythe on Unsplash.