Last week, four intermediated buyouts traded north of $1B in enterprise value. Yet,only one transaction – Heartland Dental Care – closed to an equity investor. Teachers Private Capital sold this deal to KKR && Co. with Jefferies & Co. acting as the sell-side advisor. Heartland Dental Care provides dental office support to offices in 21 states and is based in Effingham, Illinois.
Where are the advisor relationships concentrated for sponsors?
Examining the ten sponsors that closed the most platforms between Jan 2015-Dec 2017, specifically to determine how concentrated or diffuse their advisor networks are, the results are surprising.
During this period, 2,279 intermediated buyouts were completed by an equity investor. Looking at the top ten sponsors that were active in this period, these firms completed a total of 188 unique platform investments with 52% of those deals trading in the sub $250M enterprise value range. All ten of these firms closed at least 15 new platforms or more in this three-year period, meaning even the last firm on this list maintained an average of five platforms per year.
To analyze the top ten sponsors and the new platform investments completed, consider the following questions:
How many different advisors do these sponsors buy from?
What proportion of their platform investments are completed with their most active relationship?
How does this relate to you? Where are your sponsor relationships concentrated? How many times have you sold to the same sponsor? How many sponsors consider you to be their top relationship?
The associated table illustrates the variance of activity for the ten most prolific sponsors for platform investments that included a sell-side advisor.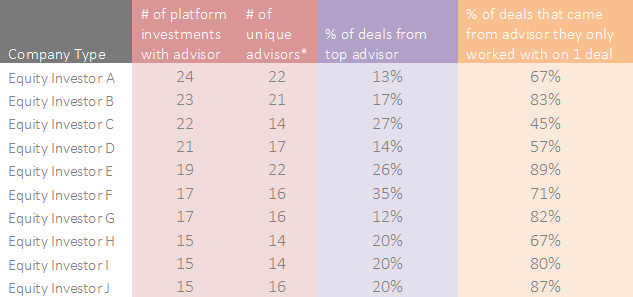 For these 10 sponsors, an average of 20% of their new platform investments come from their top advisor. On the contrary, an average of 73% of their closed deals came from advisors they only closed one deal with.
Clearly, the most active and prolific investors have their key-advisor relationships that they work closely with and depend on for deal flow, but after those relationships, they are inclined to work with a multitude of advisors (and for good reason). For example, of the 24 buyouts that Equity Investor A invested in over the three year period, only 13% came from advisors that they worked with on two or more transactions. Looking at the other extreme, Equity Investor F closed 35% of their deals in the period from one advisor.
Looking for the right buyer? Consider a boutique investor
Investment bankers should analyze the different types of equity investors available. Reviewing SPS data for the LTM period March 2018, out of the 1,313 active sponsors, 79% completed 3 transactions or less. It's important to build relationships with these firms, as they tend to be ignored by the larger banks, yet they may be the best investor for your clients that are looking to capitalize on current market conditions. Moreover, there could be an opportunity to engage these investors early as many of these firms continue to grow their funds and potentially invest more aggressively in future years, or at the very least add them to your buyers list.
Last week's deals today
April 30 – May 4, 2018
~146 deals traded!
Deal of the week
Salesforce.com completed its acquisition of San Francisco based MuleSoft Inc. last week for $5.9B. Goldman Sachs acted as the sell-side advisors for this transaction. MuleSoft provides an integration platform for combining SaaS and enterprise applications in the cloud and on-premise.
Most active subsectors
IT: Software & services
Industrial: Equipment & products
Financial: Services
Financial: Insurance
Services: Data & information
Services: Misc., asset light
Most active cities
Atlanta
Toronto
Denver
Charlotte
Seattle
Boston
San Francisco
Photo by Patrick Hendry on Unsplash.