Since January 2018, more than 5,600 deals have closed in North America. In the third quarter alone, ~1,670 deals closed, with 49% trading to an equity investor. As we enter the fourth quarter, it is time to capitalize on all our sourcing efforts employed during the past nine-months and finish the year strong. To do so, below is a quick recap of the third-quarter deal activity, including most active intermediaries and investors.
Who were the most active sell-side advisors?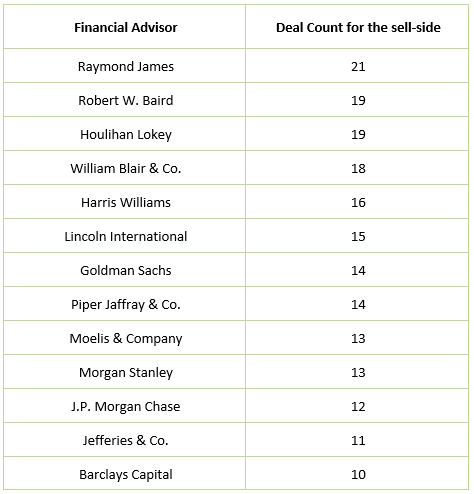 Taking a deeper look at the most recent third quarter, there are 13 sell-side advisors involved in ten or more transactions during this three-month period, as listed below. Of these active advisors, the transactions they advised on predominantly traded in New York, Chicago, Dallas, Austin, and Atlanta.
What industries were the most active this summer?
Overall, the top five sub-industries for this period, comprising 44% of all the transactions that traded, include IT: Software & services (17%); Industrial: Equipment & products (11%); Services: Marketing & related (6%): Media: Marketing & sales services (5%); and Financial: Services (5%).
Who were the most prolific investors this period?
When analyzing third quarter transactions by investor, Hellman & Friedman was the most prolific with ~15 completed transactions over the course of this three-month period. Genstar Capital and HIG Capital and Audax Group follow this activity closely with 11 and 10 deals respectively. See the chart below for the eight most active equity investors during this period: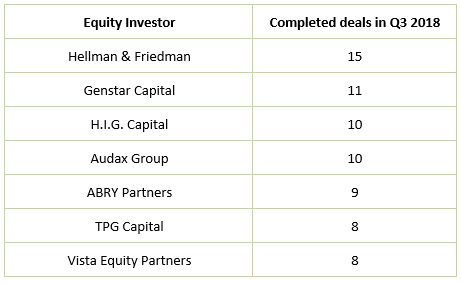 There was no rest for the weary this summer, as deal activity remained robust. As we enter the fourth quarter and begin to tie a nice bow on the year, as well as close out those deals recently announced, let us not forget that all this begins with the initial sourcing strategy. Deal originators must not become complacent in the homestretch, and should continue to focus their efforts on a thoughtful, data-driven approach. This will help to build momentum in the start of 2019, as well as to end the year on a strong note.
Last week's deals today
October 8 – 12, 2018
86 deals traded
Deal of the week
Boeing Inc. completed its acquisition of KLX Inc. last week for $4.25 billion. The Wellington, FL based KLX is a provider of aerospace fasteners, consumables, and logistics services worldwide. Goldman Sachs acted as the sell-side advisor for this transaction.
Most active subsectors
IT: Software & services
Industrial: Equipment & products
Services: Marketing & related
Healthcare: Specialty clinics & centers
IT: Services
Financial: Services
Most active cities
New York
Santa Fe Springs, CA
San Francisco
Austin
Houston