Is the add-on strategy paying-off in today's market of high valuations? Many investors look to buy smaller companies at lower multiples to expand the firm's portfolio. Once the portfolio reaches scale, it is possible for these investors to achieve multiple expansion, as larger companies often go for higher multiples. Thus, it is generally thought that add-ons are a descent growth strategy for advancing a fund's performance.
Add-ons are trending
For the twelve-month period ending August 31, 2018, there were 1,967 private equity add-on deals completed. Compare that to the twelve-month period ending August 31, 2017, there were 1,775 add-ons completed. This is roughly an 11% increase YOY in add-on equity investments.
It appears that add-ons are steadily trending upwards, as firms continue to employ this strategy to expand their portfolios. Moreover, equity investors, armed with loads of dry powder, need to put this capital to work, therefore it is not surprising that investors continue to deploy capital on smaller investments.
Most active add-ons by sector
The chart below examines the breakdown of add-on transactions during the LTM period ending August 31, 2018 by industry. The most active sector, IT: Software & services, comprises 11% of the add-on market for this period. This is closely tailed by Industrial: Equipment & products with 9% and Financial: Insurance with 5% of the add-on market.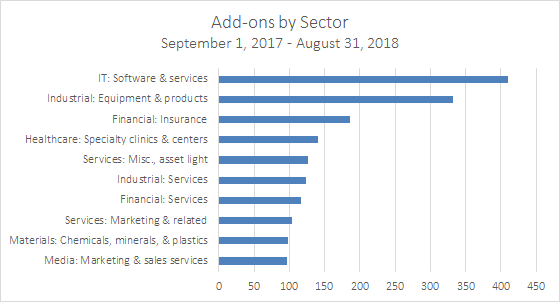 Who are the most active equity investors?
Hellman & Friedman is the most active equity investor during the LTM period ending August 31, 2018 with 55 completed add-on transactions, per SPS data. As depicted in the chart below, Hellman & Friedman is followed by Genstar Capital (48 completed add-ons), Audax Group (32 add-ons), CI Capital (30 add-ons), and finally ABRY Partners (26 add-ons). All together, these five equity investors comprise 10% of the add-on market.
Sourcing for the perfect add-on
The buy-and-build strategy employed by equity investors is not new, yet it is becoming more common, as firms intend to grow larger platform investments in an effort to get a higher valuation and multiple when it comes time to exit the investment. However, to add a smaller company to an existing platform, there needs to be synergies between, not only the platform company, but also with the other add-on businesses. This makes sourcing these types of deals a little more involved and complex. To add a perfect business to your portfolio, it all begins with your initial sourcing strategy. Employing a thoughtful, data-driven approach will alleviate the stresses of finding that perfect deal to add to your business.
Last week's deals today
September 17 – September 21
~96 deals traded
Deal of the week
Kosmos Energy completed its acquisition of Deep Gulf Energy from private equity firm, First Reserve Corporation for $1.225 B. Deep Gulf Energy is an operator of an offshore, deep-water oil-and-gas exploration and development business, and is based in Houston, Texas. Both Evercore Partners and Goldman Sachs acted as sell-side intermediaries.
Most active subsectors
IT: Software & services
Industrial: Equipment & products
Media: Marketing & sales services
Services: Marketing & related
Most active cities
New York
Toronto
Houston
Tampa