Is 2019 the year of the long-term strategy? In this hyperactive and crowded marketplace, teeming with cash, firms are urgently formulating alternative strategies that differ from their peers to drive greater returns .
A recent Wall Street Journal article noted that private equity firms are quietly building out funds focused on long-term growth. Typically, a private equity firm will hold a business for 5 to 7 years, with some even holding out for ten. Yet, many private equity investors find this strategy dubious. Per WSJ, many firms such as Blackstone and Cranemere Group are conceiving funds that can "hold assets indefinitely," or for more than 15 years. Eliminating the need to go out to the market and sell a business for a profit after 5 years, will not only relieve a lot of headaches and excess fees, it will also enable an investor to focus on the growth, success, and long term viability of a business.
As these strategies start to take hold, the sellers and founders of these businesses may be more willing to consider private equity as an exit strategy. If a founder knows that his employees and business will be cared for indefinitely, they may more willing to sell their business to a fund with a longer holding strategy.
Consider this recent Financial Times article arguing that private equity is tech's best kept secret. As more tech startups consider the pros and cons of an IPO, many sellers may consider private equity compelling as an exit strategy, particularly if they know the fund is willing to consider growing their business for the long term. Tech was one of the hottest sectors in 2018 as per SPS data, with 1,843 deals completed by 336 advisors, running a range of broad to limited processes. Below is a breakdown of the most active intermediaries in the IT space in 2018.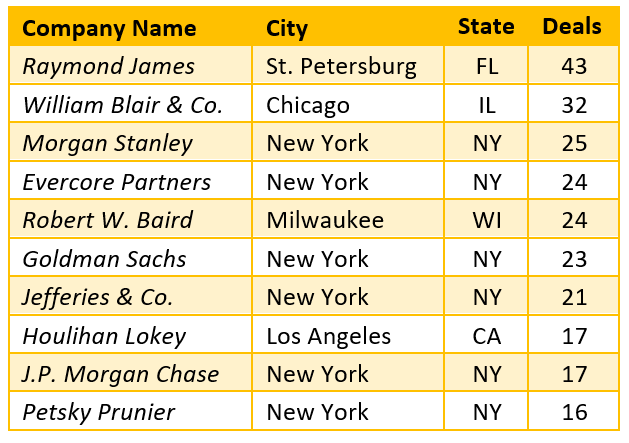 Tools, such as the SPS Portal, can help a firm define and cultivate a business development strategy focused on an indefinite holding strategy that can ultimately lead to better fund returns. As this year starts to take shape, it could be the year of the indefinite fund.
If considering this type of strategy, or want to learn more about the SPS Portal, contact us. SPS may not be able to help you convince Uber or Lyft to choose private equity over a public offering, but there are many other quality deals waiting to be sourced.
Last week's deals today
December 17, 2018 – January 4, 2019 ~299 deals traded
Deal of the week
Equity investor, CVC Partners acquired the Minnesota based
ConvergeOne
for $1.8 Billion from Clearlake Capital Group. The target is a provider of communications solutions and managed services to enterprises. Jefferies, Raymond James, and William Blair acted as sell-side financial advisors for this transaction.
Most active subsectors
IT: Software & services
Industrial: Equipment & products
Services: Marketing & related
Financial: Insurance
Financial: Services
Most active cities
New York
Houston
Austin
Vancouver
Dallas