To be of Service
It's never too early to start considering your travel plans for Q1 2019. Calendars are tentatively being booked, as conferences, forums, and conventions have set their dates. Therefore, it's a good idea to consider where the deals in your target closed this year and what advisors were active in those cities to prioritize your travel. Using current market trends and intelligent applications can help make the most of your travels.
Over the last three quarters (January 1, 2018 – September 30, 2018), nearly 5,800 transactions have traded with the top three sectors representing Services, IT, and Financial, respectively. Overall, the most active cities are New York, San Francisco, Chicago, Houston, and Toronto. Let's take a look at the Services sector as a proxy for your target market to see how coupling the SPS Portal and mobile app can transform your travels with their versatile features. Originators are armed with pertinent deal and professional information to source more effectively, especially while travelling, when using these intelligent tools.
Mapping the Services deals
Of the more than 1,550 Services transactions trading during these three quarters, California was the most active state with 15% of the activity, followed by New York (8%) and Texas (7%). Using the embedded Google map within SPS search results, the red bubbles over California will separate to illustrate that most active cities are San Francisco, San Diego, Los Angeles, and San Mateo, and Palo Alto.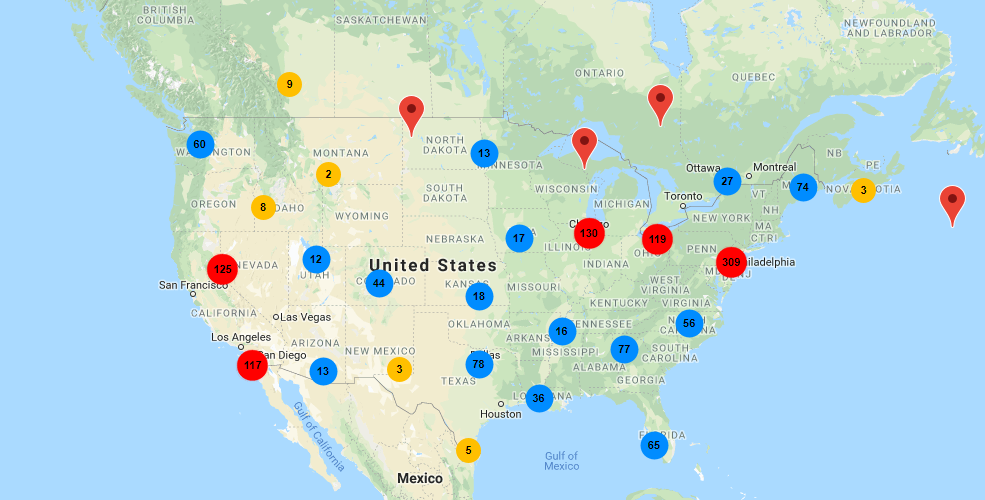 Where are the firms and people located?
There are approximately 355 active sells-side financial advisory firms during this nine-month period that intermediated a Services transaction, with 16 firms advising on ten or more deals. While these 16 firms may be a good source of deal flow, it's also wise to build relationships with less active firms that none the less consistently bring relevant deals to the market, but may not be on your radar.
There were 28 firms that closed between 5 and 9 deals during this period, with 29% of firms based in New York, followed by 11% in North Carolina, and 7% in Florida. Digging a bit deeper, 23 firms advised on 4 deals in this period and 22% of those firms are located in Atlanta.
Let's take this one step further. While a firm's headquarters is good knowledge, many of the deal professionals may have an office off-site. This is where the SPS functionality can be of service. Of the 630 professionals in this nine-month period advising on Services transactions, the top locations for professionals are New York, Chicago, and Boston. However, when you review those unique professionals that are advising on 4 or more Services deals, the top cities are Boston, New York, Atlanta, and Stamford. Clearly an East Coast trip is in order for your 2019 travels, but moreover, it may make more sense to focus heavily on New England.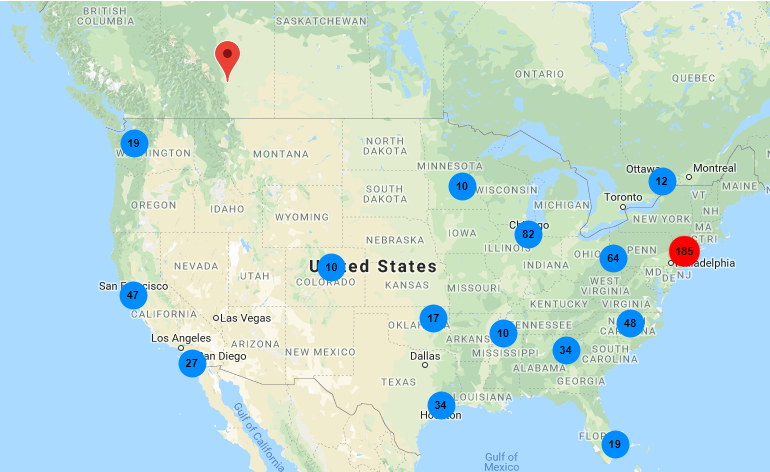 Intelligent applications can point your travel in the right direction. Incorporating the right reporting tools, paired with actionable data to your strategy, will cultivate more productive meetings and travel.
To learn more about the SPS Portal and mobile app capabilities, check out this one pager. It details the "nearby me" functionality, which makes planning meetings on the fly, easy and fun!
Last week's deals today
October 29 – November 2, 2018
~125 traded
Deal of the week
Vista Equity Partners sold its stake in the San Mateo based Marketo, Inc. to Adobe Systems for $4.75B. Marketo is a B2B cloud-platform for marketing. Morgan Stanley acted as the sell-side financial advisor.
Most active subsectors
Industrial: Equipment & products
IT: Software & services
IT: Services
Services: Marketing & related
Photo by Capturing the human heart. on Unsplash