It's Spring & conference season is in full swing!
Perhaps you attended PartnerConnect East in Boston this week, or are travelling to Texas next week for the ACG Capital Connection. If so, this post from last year is a good refresher on how to prepare for travel and meetings using the SPS mobile app.
Market commentators and the like are giving a lot of press to the kerfuffle around the private equity market: Is there a boom? How will tax reform impact the market? Did I hear that a recession is bubbling? What about those steel and aluminum tariffs? Obviously, there is no decisive answer for these questions. However, if you're in the business of deal origination there is still a job to be done, regardless of what the forecasters predict. Thus, while you crisscross the country this Spring, use the current market conditions and intelligent applications to your benefit and make the most of your travels.
If you're gonna play in Texas (you better know your deal facts):
Going to Texas ACG Capital Connection next week? Of the sell-side intermediaries that advised on a deal since 2015, more than 100 unique professionals are located within blocks of the conference venue at the Marriott Marquis.
Many of these professionals will likely attend the conference. But, wouldn't it be nice to know which professionals are a short walk from the venue? Parsing the data from the attendee list and your CRM is time-consuming and requires a lot of excel manipulation and google map searching. This is where intelligent applications would make your trip to Texas that much more valuable.
Now for your meetings at the conference, it's always good to arrive with your fact-sheets prepared. Here's a quick hit of what happened in Texas in 2017, and a notable transaction from 2018.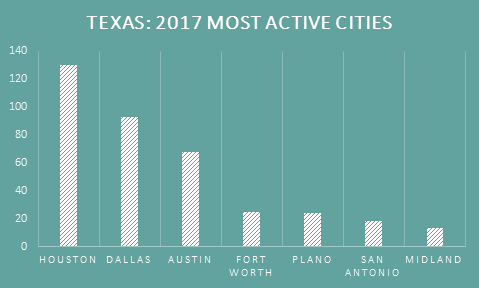 Last year, more than 600 deals traded in the state of Texas with most transactions occurring in October, followed by February and June.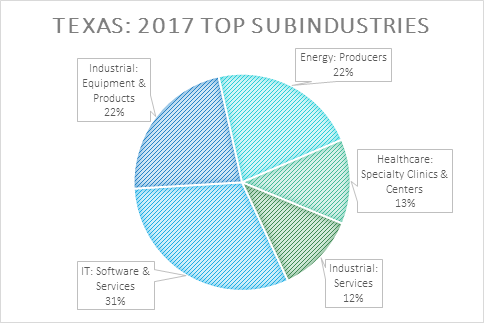 Understanding trends in the market is valuable, but it's more important to know who the most active sell-side intermediaries in Texas during 2017 were. Here's a quick league table of those firms*:

Texas deal of the year:
In Houston, Energy Capital Partners bought-out Calpine Corporation in early March for $5.6 Billion. Calpine is one of the largest generators of electricity from natural gas and geothermal resources in the US. Lazard acted as the sell-side intermediary, and White & Case was the legal advisor.
I'm thumbing my way into North Caroline:
Before you leave for ACG Raleigh Durham's Capital Conference in April, here's a review of North Carolina transactions from last year. There were approximately 12 sell-side intermediaries who advised on a deal since 2015 that are located near the Raleigh Marriott Crabtree Valley conference center, with another handful located nearby in Chapel Hill.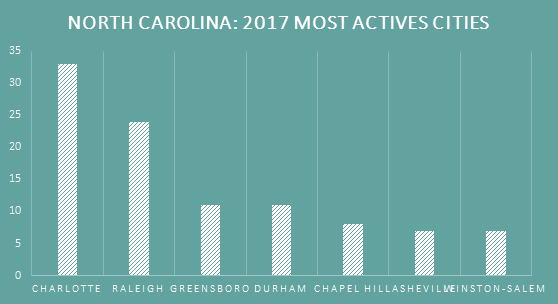 During 2017, 174 deals traded in North Carolina with the most activity occurring equally in November and June. The top sectors were Services, IT, and Healthcare and the most active subindustries were: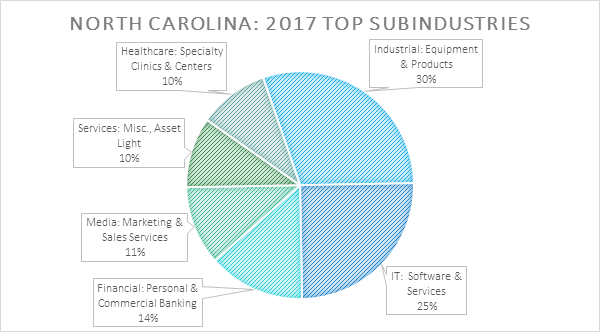 Again, the trend analysis is solid information to have, but knowing which firms you should connect with at the conference is remarkably valuable. A handshake today could be deal flow for tomorrow. To that point, the top sell-side intermediaries advising on 2017 deals in North Carolina were*:

North Carolina deal of the year:
Tonka Bay Equity Partners sold the Charlotte, NC based P.T. International Corp. to Incline Equity Partners. PT International is a manufacturer of industrial power transmission products. Quarton International acted as the sell-side advisor.
*Includes PE and M&A transactions completed in 2017, $10+ MM in transaction value, with a confirmed sell-side advisor.
Last week's deals today
March 12 – March 16, 2018
~98 deals traded!
Deal of the week
An affiliate of Cerberus Capital Management last week completed its acquisition of Cyanco in Pearland, Texas, from Oaktree Capital Management. Both Deutsche Bank Securities and Moelis & Company acted as sell-side advisors, and Kirkland & Ellis acted as the legal advisor.
Most active subsectors
IT: Software & Services
Healthcare: Specialty Clinics & Centers
Industrial: Equipment & Products
Media: Marketing & Sales Services
Services: Data & Information
Retail: Specialty
Services: Staffing & Human Resources
Most active cities
New York
San Francisco
Chicago
Miami
Vancouver
Bosotn
Houston
Photo by Vlad Busuioc on Unsplash.