On May 30th, NASA sent two astronauts to the international space station on a SpaceX spacecraft. While this may sound like business as usual, it marks the first time that NASA astronauts were transported on a commercial spacecraft. God speed gentlemen! With history being made and nostalgia kicking in, we decided to take a deeper look at M&A activity within the Industrial Aerospace and Defense (A&D) sector.
While Aerospace is on a constant quest to reach for the stars, the defense sector is subject to scrutiny and government funding. With a presidential election on the way and the financial impacts of COVID19, it wouldn't be surprising to see a decrease in additional funding. In spite of this, M&A activity shows that the A&D sector is already on track to close more deals in 2020 than 2019. As of June 10, 2020, there were 56 deals completed, compared with 126 in 2019.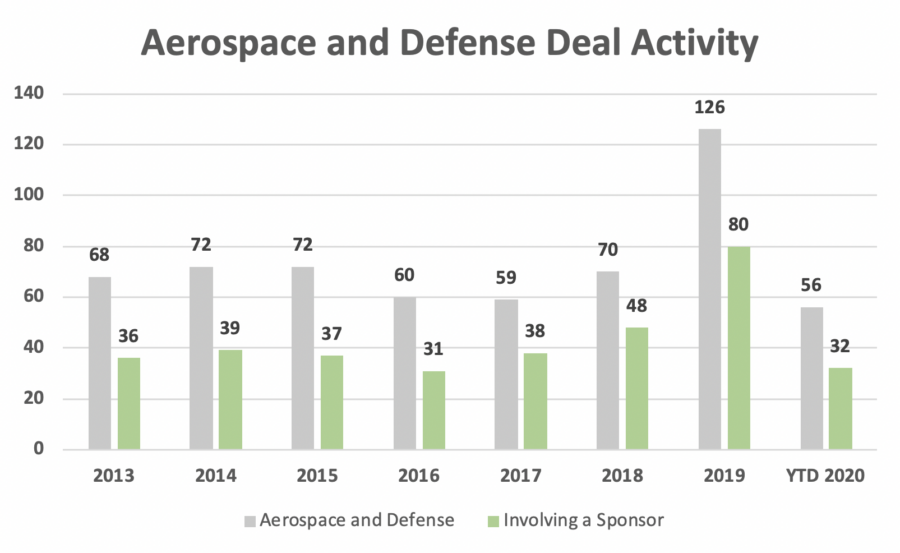 Nearly 60% of deals since 2013 have a Sponsor associated to it, with AE Industrial Partners leading the way with 17 deals over this period. In 2019, deals in A&D jumped by 80% to 126 deals, compared with 70 deals in 2018 and an average of 67 deals per year between 2013-2018. Below we've listed the top 5 most active Financial Advisors, PE Firms, and Law Firms within the A&D space since 2013.

There are a few trends in the industrial A&D sector worth noting with respect to deal location and transaction ranges. More than 25% of deals can be found within California and Florida (surprisingly none that are headquartered in Cape Canaveral). There was also a high concentration in transaction value, with 64% of deals falling between $10-49mm, 26% between $50-249mm, and the remaining 10% over $250mm. Lastly, we noticed that there was an increase in A&D deals as a percentage of the overall Industrial sector, comprising 9.3% in 2019 compared to 5.1% in 2018, and currently at 14% for YTD 2020.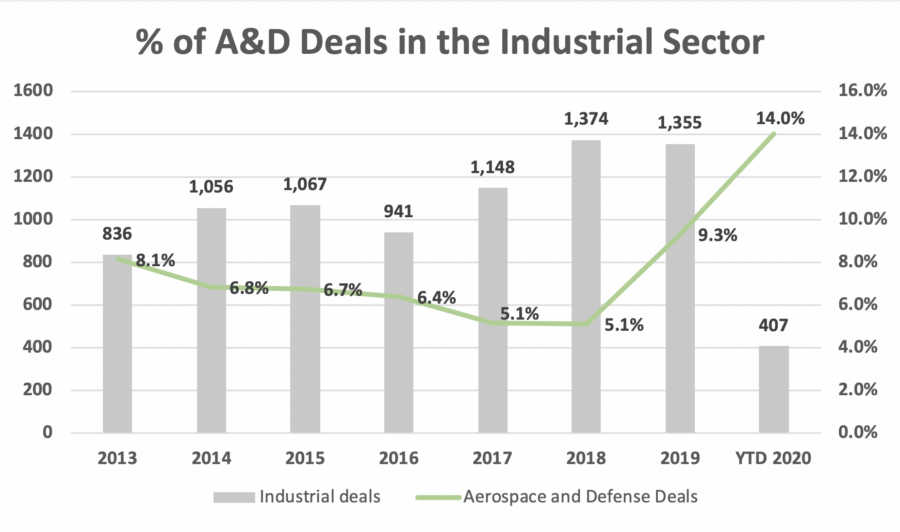 As the defense budget increased and billionaires spent more on the race to space, the number of deals completed increased as well. While most industries have felt the impact of COVID19, A&D seems to be a winner that's flying under the radar.
Last week's deals today
May 31 – June 6, 2020
~110 deals traded

Deal of the week
Beringer Capital completed the sale of its portfolio company, Adweek, to Shamrock Capital Advisors. The New York based company provides advertising agency services. CG Petsky Prunier acted the sell-side financial advisor and Clark Hill PLC provided sell-side legal advice.
Most active subsectors
IT: Services
IT: Software & services
Financial: Insurance
Financial: Services
Photo by SpaceX on Unsplash