"I am the Lorax. I speak for the trees, for the trees have no tongue." A children's book published by Dr. Seuss, The Lorax, promotes an eco-friendly message to the reader. Nearly 50 years have passed since the Lorax spread his message, but with recent events such as forest fires in California and the Amazon, the US withdrawal from the Paris Climate Accords, and the Global Climate Strikes, the question remains: did anyone hear him?
Recently, a community of influencers from YouTube have collaborated with the Arbor Day Foundation to create the #TeamTrees project in an effort to plant 20 million trees by 2020. For every dollar that is donated, the Arbor Day Foundation will plant a tree, so doing the math, to plant 20 million trees, is a goal of raising $20 million. The movement gained significant traction from individual investors like Adam with his tooth fairy money to Elon Musk, CEO of Tesla and SpaceX, and Tobias Lutke, CEO of Shopify. Causes such as #TeamTrees demonstrate that there is a growing concern for the environment from the general public, especially the younger generation, and the interest in sustainable investing seems to be rising in popularity in response.
According to Forbes, 95% of millennials are attracted to sustainable investing, and institutional investors cited climate change as being one of the top interests, but only half actively practice sustainable investment. The article also states that sustainability, responsibility, and impact investing (SRI) in the US has increased 38% since 2016 reaching $12 trillion, with sustainable investing mutual funds and ETFs increasing by 50%. It is clear these trends suggest a growing concern for sustainability, but if that is the case, how does this shift affect the oil and gas sector, if at all?
SPS Transactions
Looking at SPS data, the number of oil and gas related deals have decreased from 2013 to 2019, with oil and gas deals hitting a zenith in 2014 at 450 deals. The sector hit its lowest activity this year at 170 deals for 2019 YTD, a 148% decrease from 2013. While most of these deals had a corporate buyer, sponsors were involved in about 40% of the deals with the most active equity participant being Arclight Capital Partners, followed by Riverstone Holdings and First Reserve Corp, all of which focus on investing in the energy sector. 34% of deals in this industry were in the sub $50mm range, 46% in the $50-499mm range, 9% in the $500-999mm range, and 11% in the $1 billion+ range.
Compared to renewable energy deals, there does not seem to be a correlation to suggest an increase in sustainable investing. Renewable energy transactions peaked in 2015 with 80 deals. Looking at the graph below, there is a noticeable difference between the number of traditional oil and gas and renewable energy deals, which does support the disparity between institutional interest and practice for ESG investment activities cited by Forbes earlier. A majority of renewable energy deals were in the sub $50mm range at 54%, compared to oil and gas deals, where majority of the deals were above $50mm.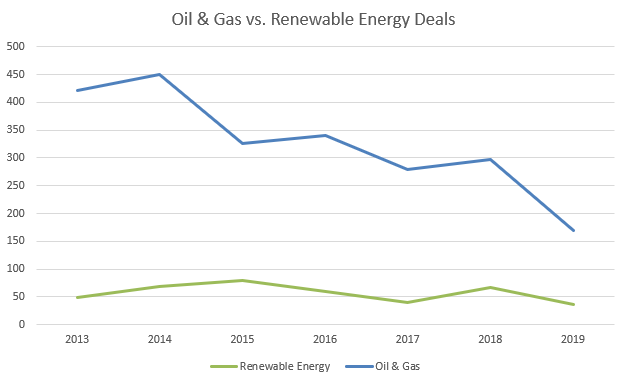 The grass is greener
Climate change has become quite a hot topic (pun intended) in the past years, and both individuals and institutions are starting to respond to the debate. As public attitudes for sustainability and climate change continue to push for more renewable and sustainable energy alternatives, investors attempt to become more involved in ESG principles, and the shift towards ESG investing may have an impact on investments in fossil fuels and related oil and gas industries. A decline in oil and gas related investment may signal a change in investor attitudes, but that does not necessarily mean sustainable investing is the driving force behind the behavior. Investing aligned with ESG principles may be seen as riskier and generally less stable than traditional fossil fuels, which may account for the disparity between interest and practice, but the fact still remains that investors are not putting their money where their mouths are.
Last week's deals today
November 10 – 16, 2019
~90 deals traded


Deal of the week
Last week, Gorge Holdings sold CrewBoss, a manufacturer of fire resistant personal protective equipment for wildland and structural firefighters, to Guardian Capital Partners. Centerfield supported the transaction with mezzanine financing. DC Advisory acted as financial advisor for CrewBoss and DLA Piper served as legal counsel for Guardian Capital.
Most active subsectors
IT: Software & services
Services: Facilities maintenance and landscaping
Services: Misc., asset light
Industrial: Misc. equipment and products
IT: Services
Most active cities
New York
Toronto
Carlsbad
Durham
Photo by Arnaud Mesureur on Unsplash