What does intelligent integration mean? And, what does it look like?
At the end of last year, Deal Cloud announced its DealCloud DataCortex which augments a user's experience by leveraging additional data sources including DataFox, and yours truly, SPS. This convergence, or intelligent integration, of data sources will be a powerful application for PE business development professionals to incorporate into their deal origination practice.
The Source has often discussed the concept of cultivating your relationships and the proverbial rolodex as a means to grow your business. Well, this intelligent integration brings that cultivation to the next level.
Great, but what does intelligent integration have to do with my sourcing strategy?
New deal sources (a common topic at the Source, so common in fact, that in the early days of the Source, I was asked to give the topic a rest. Humph!), I digress…new deal sources are an important illustration of how intelligent integration, executed properly, may direct you to more valuable relationships, and more quality deals in 2018.
What exactly does SPS consider a new deal source?
In 2017, there were 122 new-to-the-market intermediaries that advised on a transaction for the first time. Of those firms, 15% advised on two or more deals, with 4 of those intermediaries advising on three or more deals. American Discovery Capital, based in Los Angeles, was a newly active intermediary in 2017 that advised on four deals in various sectors over the last year. That's a remarkably active new-comer, and perhaps a firm you would like to foster a relationship with.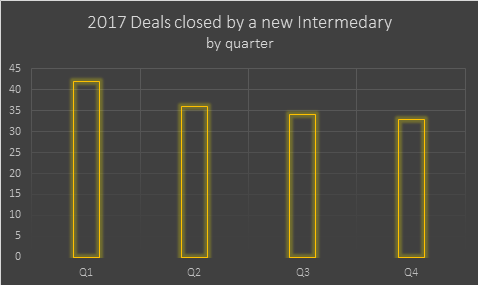 Of the 145 deals these new-to-market intermediaries advised on, 132 transactions were in the sub-$250M EV range. Not surprising, given that the middle-market is the most active for M&A deals. The top locations for these new firms were New York (23 firms), Toronto (12 firms), Chicago (7 firms), Los Angeles (6 firms), and London (6 firms). Remember, it could make strategic sense to build relationships with our friendly neighbors to the north and our brethren across the pond.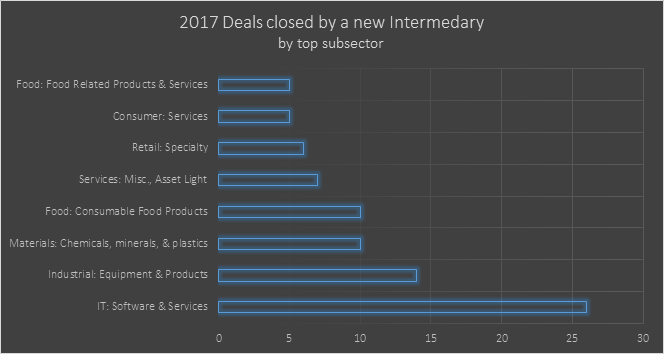 Got it, but none of these sectors fit my strategy – what now?
Another approach to integrating data intelligently is cross-referencing your deal pipeline with SPS market data. This approach may get you even closer to new deal sources, by slicing the market by your portfolio's strategy.
Is the Pacific West and Northwest part of your regional strategy? But, you're not interested in investing in IT: Software & Services sector? You find the Food: Consumable Food Products sector to be more your cup of tea? Not a problem! Integrating intelligently enables you to access the data that aligns with your strategy (however it's sliced), and eliminates the noise of those Silicon Valley tech start-ups, while still providing Food transactions from the region. In fact, the Rondout Group was a newly active firm that acted as the sell-side advisor on the acquisition of Pacific Foods of Oregon Inc. by Campbell Soup.
2018 is the year of integrating intelligently
Over the next twelve months, let's eradicate the nonsense and make your CRM more valuable. All this will lead to a more proficient deal sourcing strategy focused on quality, not quantity. It's impossible to know every deal source – and frankly, not advisable. In fact, the other aspect of new deal sources not mentioned are the individual professionals that are active for the first time, or have changed firms. Keeping track of all this information is a massive headache. That's why incorporating intelligently is the key to successfully navigating a highly fragmented market this year.
Last week's deals today
December 18 – December 29, 2017
~120 deals traded!
Deal of the week
Softbank Corp. completed its acquisition of Fortress Investment Group for $3.3 billion in cash.
Most active subsectors
IT: Software & Services
Industrial: Equipment & Products
Healthcare: Pharma & Health Products for Patient Use
Financial: Services
IT: Services
Healthcare: Devices, instruments, & Misc. Products for Provider Use
Media: Marketing & Sales Services
Services: Waste & Recycling
Most active states
California
Texas
New York
Massachusetts
Quebec City
Tennessee
Photo by Jake Blucker on Unsplash.