A pervasive theme for the M&A industry this year has been the state of valuations, which has created an unparalleled seller's market. Yet, while Private Equity firms struggle to efficiently deploy capital in this environment, M&A Advisors are in a unique position to capitalize on this situation.
To ensure that M&A Advisors can benefit from this current market, and with the new year a mere three weeks away, let's focus on the mainstay of an M&A Advisor's livelihood –crafting a Buyer's List!
Year-to-Date (January 1, 2017 – December 4, 2017), more than 2,988 sponsored transactions traded, with approximately 1,097 unique firms involved in those transactions. To refine this Buyer's List, let's take that raw number of potential buyers and transform it into meaningful and actionable data.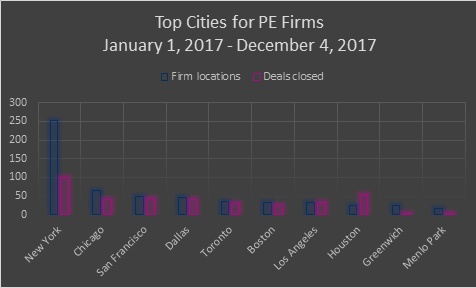 A cross-examination of the top cities for deals closing and PE firm location is a simple way to start the story of where M&A Advisors should focus their List. The first chart illustrates the top cities where Private Equity firms are located and indicates how many sponsored transactions traded. The second chart illustrates the most active cities for sponsored transactions closed, and then indicates how many PE firms are in those locations.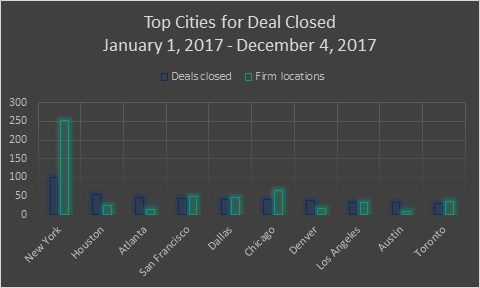 By overlaying the data from the two charts, it's clear which cities should be part of your marketing travel this coming year: New York; Houston; San Francisco; Dallas; Chicago; Los Angeles; and Toronto. SPS is a strong proponent of exploiting time and marketing dollars, and based on deal activity and Buyer locations, these cities have the maximum potential of connecting you with buyers and sellers in the same location.
Taking a closer look at these seven cities, let's review the three most active subsectors trading in each locale, thus making this data even more actionable.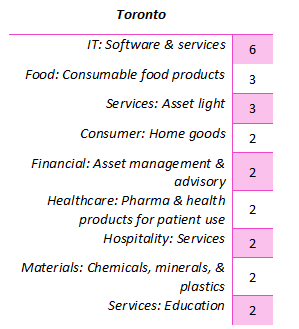 If you focus on Food: Consumable food products, Toronto and Los Angeles should be part of your travel in 2018. In fact, you should add Powerplant Ventures, located in Los Angeles, to your Buyer's List. Since 2015, Powerplant Ventures has successfully invested in one Food: Consumable food product deal each year, and they may be interested in your deal in 2018.

The second most active subsector for this period (YTD 2017), was Industrial: Equipment & products. If this is an area that your firm covers, your travels will be easy, simply head to Texas. While in Houston, look up Pelican Energy Partners; in 2017 alone, the firm has invested in three Industrial: Equipment & products transactions.

If you focus on Media: Marketing & sales services and IT: Software & services, you can knock out a lot of your travel by visiting New York and San Francisco. As part of your List, add Vector Capital as a Buyer. Not only did they close two Media: Marketing & sales services deals in 2017, they invested in 6 IT: Software & services transactions for the period.

The SPS research team has indicated that the Services: Staffing & human resources is a fast-growing subsector. It even made the list of the top fifteen subsectors for 2017. Chicago has been active in this space, and while you are visiting, add Highlands Ventures to your Buyer's List for 2018. For the past two years, this firm has actively invested in this growing subsector.
There is a lot of art involved in fitting a Buyer's List; however, parlaying that art with actionable data and simple analysis, could advance your list and streamline your M&A process for 2018.
Last week's deals today
November 27 – December 1, 2017
Approximately 122 deals closed!
Deal of the week
Ferrero Group purchased Ferrara Candy Co. – maker of Nutella – from Private Equity firm L Catterton.

Most active subsectors
IT: Software & services
Industrial: Equipment & products
Services: Asset light
Food: Consumable food products
Financial: Insurance
Financial: Services
Most active states
California
New York
Texas
Pennsylvania
Illinois
Photo by Gerrie van der Walt on Unsplash.