Earlier this year, Bain & Company released its 10th annual Global Private Equity Report for 2019. Reading through the section, Exits: Strategic buyers keep the party going reminded us that we failed to write a post detailing overall private equity exits in 2018. At the start of 2018, there was substantial speculation surrounding the rise of exits for that coming year. Were the commentators correct?
According to Bain's Report, "[exits were] a strong contributor to a historic five-year stretch that has produced unprecedented distributions for investors." Furthermore, "The urgency to sell reflects a number of factors. First, demand for assets among both corporate and PE buyers is ravenous. The same rise in competition and deal multiples that frustrates GPs on the buy side provides a rich opportunity to sell assets for premium prices." Moreover, per the Report, the fear of a recession is pressuring firms to sell "anything that isn't tied down." And, finally, some firms are willing to take a haircut on a few exits, given that the current fundraising climate won't last forever, to start building out the next fund at current levels. As always, the Report is robust and provides a deep analysis of the private equity market and well-worth the download.
Exits are located at the rear
In 2018, there were approximately 860 private equity exits, a 3% increase YOY. Most of the transactions traded in New York (25), Houston (24), and Atlanta (14) and nearly 40% were sold to a corporate investor, with the majority trading to a peer-equity investor.
The most active private equity seller for the year is H.I.G. Capital, with 13 exits and the most trading in the IT and Financial sectors. This is followed closely with 10 exits from The Riverside Company and Sun Capital Partners with 8 exits in 2018. Reviewing the deal data from the industry perspective, the most active sectors include: Industrial: Equipment & products (131); IT: Software & services (115); Services: Misc., asset light (36); Services: Marketing & related (34); Materials: Chemicals, minerals, & plastics (33). The ten most active sell-side advisors on 2018 private equity exits are listed below.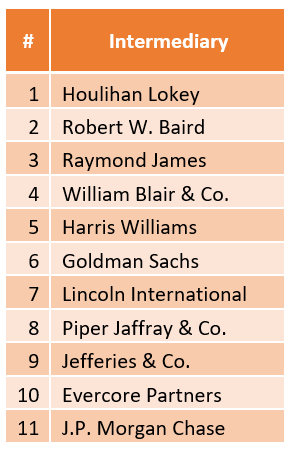 As Bain's Report notes its three reasons that firms may opt for an exit, it's worth considering if the same thesis will hold true this year. There is a lot of chatter of a market slowdown, but many of the economic indicators that we look to for hints or trends as to where the market is headed are not indicating a slowdown. Furthermore, there were 79 exits in 2018 that traded for more than a billion dollars. Most notably, Siris Capital Group exit of Intralinks Holdings Inc. and Vista Equity Partners exit of Marketo, Inc. This is an 18% increase YOY in billion dollar exits. Do these billion dollars plus exits indicate that firms are weary of future growth? Hard to say, as there are firms eager to place bets on these transactions.
Last week's deals today
March 4 – March 10, 2019
~128 deals traded
Deal of the week
Corporate investor, Tivity Health Inc. completed its acquisition of the Pennsylvania based,
Nutrisystem
for $1.3 billion. Evercore Partners acted as the sell-side intermediary for this transaction. Nutrisystem is a popular weight management provider of products and services for women and men.
Most active subsectors
IT: Software & services
Industrial: Equipment & products
Financial: Services
Services: Misc., asset light
Most active cities
New York
Los Angeles
Toronto
Photo by Jacob Townsend on Unsplash